Ek sit langs my ouma op die gras. Ons kyk hoe 'n ruspe in 'n skoenlapper verander. Ouma sê 'n mens noem dit metamorfose.
"Metamorfose" is 'n groot woord. "Kyk, Yusuf," fluister Ouma. Die papie waarin die ruspe wegkruip, kraak stadig, stukkie vir
stukkie oop, totdat 'n rooi-en-swart skoenlapper uitkom. Die skoenlapper rus, laat haar vlerke droog word en fladder dan weg.
Ouma sê al die diere in die natuur word gebore, groei en gaan dan weg. Voëls doen dit ook. Hulle migreer in die winter na warmer
plekke. Die wilde gemmerkat wat in ons sandput geslaap het, is ook weg. Ek wonder wie ek gaan wees wanneer ek groot is.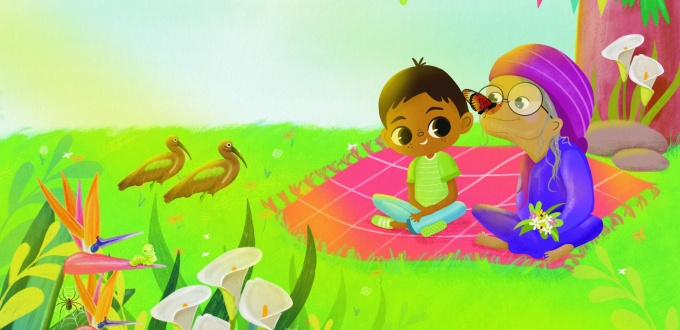 Sal ek weggaan? Ek wil nie. Mamma sê ons moet na 'n ander huis toe trek waar daar beter skole is. Dit maak my hartseer.
Ons het nog altyd by Ouma gewoon. As ons wegtrek, sal die nuwe tuin dalk nie 'n towertuin wees nie. Ek mag dalk
stoksielalleen wees. Ek is bang. "Kyk, Yusuf!" roep Ouma. Op die muur sit 'n gemmerkat vir ons en kyk. Sy spring af en stap na
die sandput toe. Sy krul haar in die sandput op. Ons wilde kat het huis toe gekom. Alles sal goed gaan as ek ook moet wegtrek.
Ek kan altyd terugkom na Ouma se towertuin toe.
Nal'ibali-pret
Idees om oor te gesels
Yusuf woon by sy ma en ouma. Saam met wie woon jy? Dink aan veranderinge wat jy in jou lewe ervaar het. Hoe het jy oor hierdie veranderinge gevoel toe dit gebeur het? Hoe voel jy nou daaroor?
Visueel
Kyk mooi na die prentjie op die eerste twee bladsye van die storie. Kan jy die volgende vind: * drie voëls * twee spinnekoppe * 'n ruspe * 'n papie * 'n skoenlapper?
Lees
Dit is 'n storie oor verandering. Kan jy al die verskillende veranderinge in die storie vind wat Yusuf sien of waaroor hy dink?
Skryf Skryf 'n lettervers oor verandering. Begin elke reël van jou gedig met 'n letter van die woord "verander".
Handwerk
Maak 'n skoenlapper. Vou 'n vel papier in die helfte. Verf 'n paar kolletjies verf op die een helfte van die bladsy en vou dan die papier sodat die verf ook op die ander helfte afdruk. Maak die papier oop. Wanneer die verf droog is, teken die buitelyn van 'n skoenlapper met oop vlerke op die geverfde vel papier. Sny die skoenlappervorm uit. Plak die middelste deel daarvan op 'n toiletrol vas. Voeg 'n paar voelers by wat van papier of skuifspelde gemaak is.
Speel toneel
Voer 'n skoenlapper se lewensiklus op: 1. 'n ruspe wat op 'n blaar beweeg en dit vreet 2. die ruspe wat 'n papie word 3. die ruspe binne-in die papie 4. die papie wat oopbars en die skoenlapper wat uitkom 5. die skoenlapper wat rondvlieg.