Plaasmuis kom stad toe om 'n nuwe bril te kry. Stadsmuis ontmoet haar by die stasie. "Welkom, niggie," sê hy. "Gaaf om jou te sien," sê Plaasmuis, al kan sy nie eintlik veel sien nie. Sy kyk op, maar die grys geboue steek die blou lug weg.
Plaasmuis sit haar bril op. "Waar is al die bome?" vra sy. "Wie't bome nodig?" sê Stadsmuis. "Wolkekrabbers is soveel hoër!" Plaasmuis hoes. "Ek wil huis toe gaan." "Daar gebeur nooit enigiets op die plaas nie," sê Stadsmuis. "Raak jy nie verveeld nie?"
Plaasmuis lag. "Kom kyk eerder self!" Die eerste ding wat Stadsmuis oplet, is die stilte. Plaasmuis woon langs 'n groot boom, onder die wye blou lug. "Luister net," sê sy. Hy hoor 'n geritsel en 'n gezoem en 'n gekirts-kirts-kirts.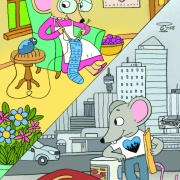 "Ons deel die bessies met die voëls," sê Plaasmuis. "En die bye deel hul heuning met ons. Die lewe is soet!" 'n Blink ronde gogga verskyn en rol 'n bal met sy stekelrige agterpote. "Miskruier maak alles skoon." "En wat doen Rooikat?"
"Hy eet ons op," sê Plaasmuis. "Hardloop!" 6 Stadsmuis het genoeg gehad. "Ek sal eerder koes vir die verkeer as vir 'n vreesaanjaende rooikat!" Plaasmuis woon in haar plaashuis waar sy die rus en vrede geniet.
Nou en dan gaan sy stad toe om besigheid te doen. Maar wanneer sy daarheen gaan, maak sy seker dat Stadsmuis daar is om haar te beskerm. Stadsmuis gaan terug na sy woonstel in die stad. Wanneer dit selfs vir hom te woelig raak, gaan hou hy vakansie by sy niggie. Dit lyk of ons lief is vir die plekke wat ons die beste ken. Wat maak die plek waar jy woon vir jou lekker?
Nal'ibali-pret
Idees om oor te gesels
Het jy neefs en niggies? Waar woon hulle? Sou jy kies om in die platteland of in 'n stad te woon? Hoekom? Hoe is die lewensomstandighede in dorpe en stede anders?
Visueel
Waar woon jy? Teken 'n prentjie van jou huis en die omgewing.
Lees
Kyk mooi na die prentjie van die veld. Lees weer die teks op hierdie bladsye en vind dan elkeen van die diere en voorwerpe in die prent.
Skryf Is jou huis jou gunstelingplek? Of is dit iewers anders? Skryf 'n lys van die redes waarom jy jou gunstelingplek gekies het.
Handwerk
Gebruik 'n mediumgrootte kartondoos om 'n huis vir 'n muis te maak. Gebruik klein boksies (soos vuurhoutjiedosies), botteltjies en ander herwonne materiaal om muisgrootte meubels vir die huis te maak. Jy kan die meubels met stukkies lap of gekleurde papier versier. Gebruik laastens speeldeeg of klei om 'n paar muise te maak om in die huis te woon.
Speel toneel
Vertel die storie oor deur jou eie karakters in die plek van Plaasmuis en Stadsmuis te gebruik.