Ntate groet vir Tumi. "Jy moet vandag soet wees. Moenie in my kamer ingaan nie. En moenie met Phathu die Papegaai praat nie."
Tumi luister nie vir Ntate nie. "Hallo," sê Tumi. Phathu die Papegaai bly doodstil. Wat lê daar in Phathu se hok? 'n Stowwerige
fluitjie! Tumi vee dit skoon en blaas die fluitjie. "Goeiedag, magtige een," sê Phathu die Papegaai. "Ek kan drie van jou wense laat
waar word." Tumi het maagpyn. Hy het te veel lekkers geëet. "Tumi! Ek kan nie inkom nie. Ek kry nie die deur oop nie."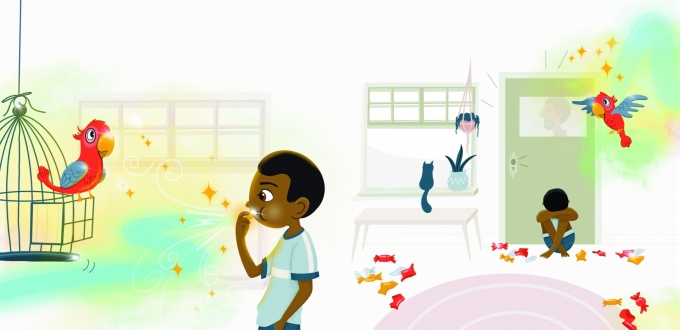 Ntate is by die huis. "Het jy met Phathu die Papegaai gepraat, Tumi?" Tumi is bang. SJOEF! SJOEF! "Ek wens … al hierdie
lekkers verdwyn." "Ek wens … ek het al die lekkers in die wêreld." "Ek wens … "Tumi!" Ntate kyk by die venster uit. Al wat hy
rondom hom kan sien, is die oseaan. "Wat het jy aangevang?" Phathu die Papegaai lag. "Tumi het gewens dat jy sakke vol geld sal
kry sodat julle in 'n groot huis kan woon en hy sy eie slaapkamer kan hê. Hy het net nooit gesê waar die huis moet wees nie!"
Ntate is vies. "Jy luister nie. Jy is stout, nes hy. Daardie papegaai is altyd vol streke." SJOEF! Toe hy later daardie aand in sy bed
lê, dink Tumi: "My laaste wens moet 'n goeie wens wees."
Nal'ibali-pret
Idees om oor te gesels
Wat sou jou drie wense gewees het? Watter les dink jy het Tumi dalk ná sy derde wens geleer? Wat is wense? Hoe skep of maak ons wense? Wat of wie laat ons wense waar word?
Visueel
Teken 'n prentjie van drie wense waarvoor jy vir Phathu sou vra.
Lees
Kyk mooi na die woorde en prentjie op die laaste bladsy.  Wat was Tumi se derde wens?  Gebruik die prent om die besonderhede uit te werk van wat Phathu besluit het om aan Tumi toe te staan.  Hoe dink jy het Tumi gevoel toe hy by die venster uitkyk?  Wat dink jy het hy volgende gedoen?
Skryf
Teken 'n prentjie van Tumi en Phathu met 'n denkborrel vir elkeen van hulle. Skryf in Tumi se denkborrel sy derde wens neer, en begin met hierdie woorde: Ek wens … Skryf in Phathu se denkborrel neer wat hy vir Tumi gegee het, en begin met hierdie woorde: Ek dink ek sal die volgende vir Tumi gee 
Handwerk
Gebruik 'n toiletrol of 'n handdoekpapierrol van karton saam met verf, kokipenne, gom, vere, gekleurde sneespapier of kreukelpapier om jou eie towerpapegaai te maak. Gee jou papegaai 'n naam.
Speel toneel
Vertel die storie oor met jouself as hoofkarakter. Vervang ook Tumi se wense met drie wense van jou eie.