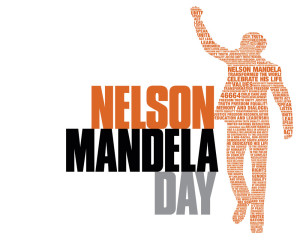 This Mandela Day, Nal'ibali called on radio stations across the country to help create 67 minutes of collective storytelling across the airwaves. Not only did the stations respond, they went above and beyond, airing far more than the required 67 minutes of children's stories in support of the campaign's mission to create the conditions that grow a love of reading, and hence promote literacy development in SA.
Listeners to SAfm, RSG, Umhlobo Wenene Fm, Bush Radio, Munghana Lonene Fm, Phalaphala FM, Ligwalagwala Fm, Motsweding fm and Kingfisher FM and were all treated to readings of children's stories in local languages, including excerpts of Chris van Wyk's story "Mr Hare Meets Mr Mandela" – one of ten SA children's stories featured in the Sunday Times Nal'ibali Storytime book published earlier this year. Listeners were then encouraged to download the rest of the story, as well as others in various SA languages, from the Nal'ibali web and mobisites to carry on sharing with their children long after Mandela Day.
Role models and celebrities Elvis Blue and Zolani Mahola of Freshlyground also pitched in, donating some of their 67 minutes of service for Mandela Day by reading Nal'ibali stories on the day, on RSG and SAfm respectively.
"Working together we were able to reach an incredible number of listeners as well as share stories in a variety of languages. This is an important achievement as children who are immersed in great and well-told stories in languages they understand, become inspired and motivated to learn to read for themselves," comments Dr Carole Bloch, director of PRAESA (Project for the Study of Alternative Education in South Africa) – a founding partner in the Nal'ibali campaign.
 On the ground
To further support reading for enjoyment on the ground, Nal'ibali Cluster Mentors (the campaign's representatives working with communities to support reading for enjoyment and reading clubs as a means to develop literacy) ran special Mandela Day events for schools and community organisations. These included youngsters from the Philippi East Library Nal'ibali Reading Club exchanging songs and stories with members of the Masakhane Seniors Club in Cape Town, lead by Cluster Mentor David Jeffery, and members of the Soul Buddies Nal'ibali Reading Club in the Eastern Cape informing staff members from the Nomangesi Jayiya Clinic on how to engage their patients with books and stories lead by Cluster Mentor Malusi Puwe. "This year we wanted to make sure our Mandela day activities didn't just inspire others, but would also help to pass on a transfer of skills," comments Puwe.
Gcinumuzi, Nal'ibali Cluster Mentor in KZN, organized a storytelling for the children of Majomela Creche and community members as well as training for parents and staff, and in the Eastern Cape Tsepiso Nzayo and his team held one-on-one reading sessions with Grade R learners. In Gauteng, Cluster Mentor Bongani Godide promoted reading and writing amongst young children at the Courtland Toy Library at the Children's Memorial Institute. Children and staff from the SOS Children's Village, Johannesburg Children's Centre and the Centre of Burned Children were in attendance. Members of the Nal'ibali Free State Reading Clubs shared skills and joy at the Monyatsi Primary School this Mandela Day by  hosting a reading-for-enjoyment session with the school pupils and informing the school's staff on how they can keep engaging their pupils with books and stories everyday throughout the year.
In Limpopo,  the Nal'ibali reading club children  read and told stories, poems and plays as well as played games and assisted the patients in illustrating and writing their own stories. The volunteers also helped to empower the ward staff by providing training on how to ensure their patients share in and enjoy the magic of reading and stories throughout the year.
In Cape Town, the PRAESA team also got involved, spending their 67 minutes at the Red Cross War Memorial Children's Hospital, reading and telling stories with patients, parents and donating books to the wards, as part of their book outreach partnership with Wimpy.