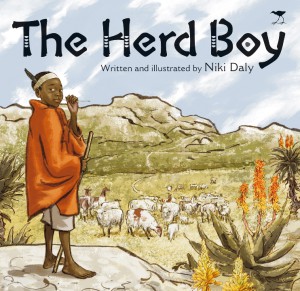 "I love playing and chatting with children...feeding and putting them to bed with a little story, and being away from the family has troubled me throughout my life," Nelson Mandela, 1981
This Mandela Month, Nal'ibali, the national-reading-for-enjoyment campaign, together with Jacana Media is offering all children and caregivers the opportunity to celebrate and remember the legacy of Madiba through local author Niki Daly's The Herd Boy – a story of empowerment, self-belief and leadership inspired by the life of Nelson Mandela.
The story will be available for free as a flip-through book on the Jacana Media website (www.jacana.co.za) in isiXhosa, isiZulu, Sesotho, English and Afrikaans for the week of Mandela's birthday, 14-20 July. The public will also be able to download an audio clip of the author reading the story from the Nal'ibali mobisite (www.nalibali.mobi) in this period - or you can listen to it here. Additional children's stories in a range of South African languages as well an activity sheet with 67 ways to get children reading and writing will be available for free on both the Nal'ibali mobi- and web sites (www.nalibali.org).
"The life story of Nelson Mandela as reflected in Niki Daly's book is a poignant reminder of the potential all children carry inside them – irrespective of their backgrounds," comments Carole Bloch, director of PRAESA (the Project for the Study of Alternative Education in South Africa), which is driving the Nal'ibali campaign that is working to spark the potential of every child in South Africa through storytelling and reading.
Children who are immersed in great and well-told stories – and in languages they understand –become inspired and are motivated to learn to read for themselves. Such personally rewarding learning is a recipe for successful literacy development, which contributes to children's long-term educational success.
"We hope that by sharing this story widely, as many adults and children as possible will be inspired and motivated to continue reading together, long after Mandela Month," adds Carol Broomhall, Jacana Media publisher.
"Given the evidence that the introduction to books and being read to at home is one of the most significant factors influencing a child's success at school, we are proud to partner with Nal'ibali in their work to empower caregivers and communities to use stories for their children's development."
On the ground, Nal'ibali Cluster Mentors and Story Sparkers will read the story aloud at more than 300 Nal'ibali reading clubs across the country and a special reading by the former Archbishop Desmond Tutu will take place on July 18th at Breadline Africa's pop-up library container at the V&A Waterfront. The story will also be shared with children visiting the container during the month and performed by actress Diane Wilson to children Cape Town Central library. Watch Diane's reading here.
Finally, to help reach even more children and adults, local and national radio stations have come on board to air readings of the story in the lead up to Mandela Day. Participating stations include: 5FM, SAfm, Kaya FM, Smile 90.4FM. X-K FM, CCFm, Radio Helderberg 93.6 FM, Cape Pulpit 729AM, Forte FM, Tru FM, Eldos FM and Zululand FM. If you would like to share a reading on your radio station, email sally@praesa.org.za.
Nal'ibali and Jacana Media invite you to share Niki Daly's 'The Herd Boy' with your children this Mandela Day by accessing it in isiXhosa, isiZulu, Sesotho, English and Afrikaans on the Jacana Media website (www.jacana.co.za), or by downloading it as an audio story from the Nal'ibali mobisite, www.nalibali.mobi. Additional children's stories in a variety of languages, literacy tips and bilingual literacy supplements are also available freely throughout the year at www.nalibali.org or www.nalibali.mobi.