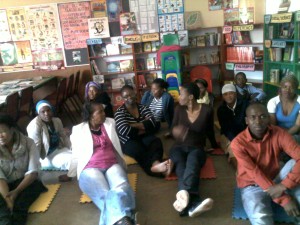 Last Thursday (25th April) Nal'ibali and partner Room to Read held a reading-for-enjoyment training orientation in Jane Purse, Limpopo. The session was led by Nal'ibali's Programme Support Officer Malusi Ntoyapi, Room to Read volunteers and employees, and teachers from Dikgabje Primary School, and focused on inspiring and equipping volunteers with reading-for-enjoyment strategies.
"The training was more interactive and we did lot of demonstration of activities and reading," says Malusi. "We used four languages during the training: Sepedi, isiXhosa-isiZulu and English. All the games were done in the different languages. Multilingualism is so important - I even learnt new words! We played lots of games too; for example, the Banana Song, a multilingual action song. The children copy the actions of the teacher or instructor, while singing along. The song uses different verbs with the actions (for example mash, eat, chop, waving at friends), and so is good for teaching second language verbs, as well as developing cognitive skills. It's very fun and everyone loves it! Teachers and reading club leaders can translate it to their mother tongue at home.
"During lunch time we were entertained by a group of children from the school who did rhymes and dramatized one of the stories the school teacher librarian often read aloud to them. I decided to invite the children to stay for are read-aloud slot after lunch. We read aloud 'The Little Hare in isiXhosa, Engilsh and Sepedi.
"The highlight of the training is the young boy who participated in the training who started the school club when he was still a student Dikhabje Primary School. He still helps at the library, although he is in high school."
The training also highlighted the resources available on Nal'ibali's online platforms, such as the Facebook page, website and mobisite. Phuti Masenya, a Room to Read trainer, said that "I will encourage teachers to read and model to learners, and encourage storytelling."