Our Characters
Meet the Nal'ibali characters

Neo
Neo is 8 years old. He lives with his mom, dad, Gogo and little sister, Mbali. His best friend is Bella. He speaks isiZulu and isiXhosa and some English too. Neo likes to explore and to try out new things. He also loves playing soccer and reading books. His favourite books are adventure stories, especially ones about pirates! In fact, just last night he dreamt he was a pirate from one of his favourite adventure stories – and he was eating his favourite snack too: ice cream!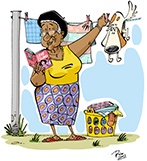 Gogo
Gogo is Neo and Mbali's grandmother and she lives with them. She runs her own educare centre and that is where her reading club meets every Saturday afternoon. There are 30 children in her reading club and Gogo has four volunteers who help her. She can speak all of the home languages of the children in the club – and some other languages too! Gogo speaks isiZulu, isiXhosa, Sepedi and English and she's just started learning French! Gogo is always busy but there is nothing she likes more than to relax with a cup of tea and a romance novel or a good story on the radio!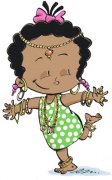 Mbali
Mbali is just 2 years old and she is Neo's little sister. She lives with Neo, Mom, Dad and Gogo so there's always someone who can read to her! She mostly speaks isiZulu but she can say some words in isiXhosa and English. Mbali loves dressing up and playing with her teddy bear. Books with nursery rhymes in them are her favourite but she also enjoys looking at Neo and Bella's books and pretending to read them. In fact, you will often find Mbali 'reading' to her teddy bear or Bella's dog, Noodle!

Bella
Bella is 5 years old. She lives with her mom and dog, Noodle. Her best friend is Neo and they play together every day after Neo comes home from school. Bella speaks isiXhosa at home and she has already learnt to sing a few songs in English too! Bella loves listening to stories being told or read to her. She also likes looking at the pictures in books by herself and telling her own stories. Bella loves all animals – not only Noodle – so she likes stories about animals. But she also likes stories about queens and witches, even though they make her a little scared sometimes!

Noodle
Noodle lives with Bella and her mom and he is friends with all of Bella's friends too! Sometimes Bella thinks she should have taken him to puppy school when he was younger because he can be very naughty! When Bella and her mom are reading together, Noodle likes to lie near them in case they are reading a story with animal sounds in it – he likes these stories very much, especially if they have dogs barking in them. Noodle is full of energy and loves places where he can run around and dig. And when he's done that there is nothing that he likes more than to have a large drink of water and a dog biscuit!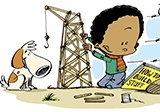 Afrika
Afrika is 7 years old. He lives with his mom in a rural area that is about five hours' drive from the neighbourhood where his cousins, Neo and Mbali, live. They often visit each other during the school holidays. Afrika speaks Sesotho and English and is learning isiXhosa. He loves anything to do with science and inventions and he has already built his own model aeroplane using ice-cream sticks! Can you guess what Afrika's favourite books are? That's right, he likes 'how-to' books and books with lots of interesting facts in them. Usually, his mom reads to him but he has also started to read some books by himself. The first book he read on his own was one about his favourite snack: watermelon!

Dintle
Dintle is the baby of the Na'ibali family! Although she is only 9 months she already loves books and gets very excited when her mother reads to her every day after breakfast. She gurgles happily as her mother reads to her and she seems to like books about animals and babies the most. Afrika, her brother, enjoys sharing the Sesotho rhymes he learnt as a baby with his little sister!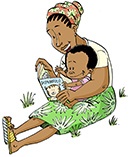 Mme wa Afrika
Mme wa Afrika is a real reading fan! She is mother to Afrika (7 years old) and Dintle (9 months) and they keep her very busy. (She is also Neo and Mbali's aunt.) Mme wa Afrika speaks mainly Sesotho, Setswana and English but she also uses Afrikaans from time to time. She remembers many of the stories that her grandmother told when she was growing up and now she tells them to her own children. Mme wa Afrika believes in the power that stories have to connect us all so she makes sure that she reads to her children regularly. And, whenever she can find the time, she relaxes with a book herself!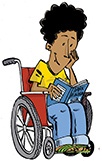 Josh
Josh is 12 years old and speaks Afrikaans, English and a little Sesotho. He lives with his father and his aunt in the same neighbourhood as Neo and Mbali. Josh loves anything to do computers and cell phones – especially reading teen stories on his cellphone! He is also interested in building and flying his own kites – in fact, he came first in the local kite competition last year. Josh thinks he might want to be a pilot when he grows up but for now, he just enjoys travelling in aeroplanes and reading about them!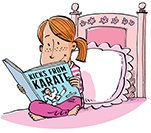 Hope
Hope is is 10 years old and she lives with her mom and dad. Their home is close to Neo's and she is good friends with him and Josh. They often come and watch her when she takes part in karate competitions. Hope reads in English, but she can also speak and read a bit in Afrikaans and Zulu because she's been learning these languages at school. She enjoys short novels about children her age and their daily lives. She is a great animal-lover, so you'll also often find her looking at books about wild animals and their babies, and learning about where and how they live. And, of course, she loves books about karate!