Nal'ibali, the national reading-for-enjoyment campaign, will be celebrating World Storytelling Day this Friday, March 20, at the Indie Book Fair taking place at the Sunnyside Park Hotel in Johannesburg. In celebration of the day, and the power of stories, the campaign will be hosting a special storytelling session with guest storyteller and author, Zanele Ndlovu.
"We are all born to tell stories, memorise and make sense of life in story form. So, Nal'ibali uses the power of stories – oral and written, and in as many languages as possible – to inspire children to want to read and write," says Carole Bloch, Director of PRAESA (The Project for the Study of Alternative Education in South Africa), which drives the Nal'ibali campaign and has over twenty years of experience in community literacy development.
Bongani Godide, the Nal'ibali Literacy Mentor who oversees the campaign's network of reading clubs in Gauteng, will join Ndlovu, and together, the storytellers will host an interactive, multilingual storytelling session that will include songs and games and feature Ndlovu's latest story, Umakheyane.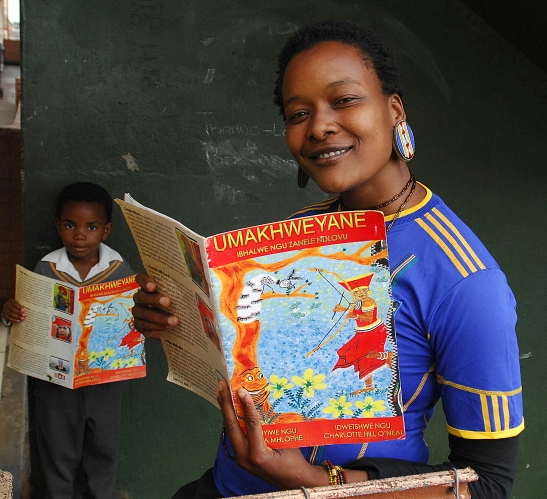 Umakheyane is the isiZulu term for an ancient African indigenous instrument that was used in storytelling in the time before schools and when stories were used to pass on important lessons. In Ndlovu's story, the old women who plays the Umakheyane is the only one in the village who is familiar with it, and, believing she is using it for witchcraft, the villagers send her away to live alone atop a mountain where she makes friends with the birds, the sun, the stars and the trees.
Strongly passionate about the power of stories herself, Ndlovu's work has taken her all over the African continent where she has performed at many different kinds of festivals.
"Every story has a lesson to tell, and while being educational, it is also entertaining. This World Storytelling Day, I'm sharing my story to not only keep this important oral tradition alive, but to remind our children about other elements of our cultural heritage too," comments Ndlovu.
Taking place in the leafy garden of the Sunny Side Park Hotel, the special World Storytelling Day session is open to all caregivers and children attending the fair.  And, for those unable to join on the day, Ndlovu's story and many more are available on the Nal'ibali web- and mobisites, in a variety of South African languages.
Guests will also be able to visit the Nal'ibali stand for further information and tips on reading and sharing stories with children, as well as how to use and access Nal'ibali's free mulitlingual literacy materials.
Storytelling session details:
Date: Friday, March 20
Time: 14.00pm – 15:30pm
Venue: Sunnyside Park Hotel, Johannesburg
Entrance: The session is open to all guests of the Indie Book Fair. Entry to the fair is R10 for adults and free for children under 12.
For more details on the Indie Book Fair, visit: www.indiebookfair.co.za