Selected to be one of the 460 transformative design projects toshowcase the role that design can play in social transformation, the Nal'ibali reading-for-enjoyment campaign proudly launched itsWorld Design Capital 2014 project, Turning Litter Into Literacy Awareness, together with young readers from Schotse Kloof Primary School at the World Design Capital 2014 Pop-Up Space in Long Street on Saturday 16 August.
Working together to create the first in a series of reading-for-enjoyment seats and benches assembled from discarded and recycled materials, the installations are being made to raise awareness not only about the importance of taking time out of one's day to read with children, but also to grow an awareness of preserving the environment among children and their caregivers.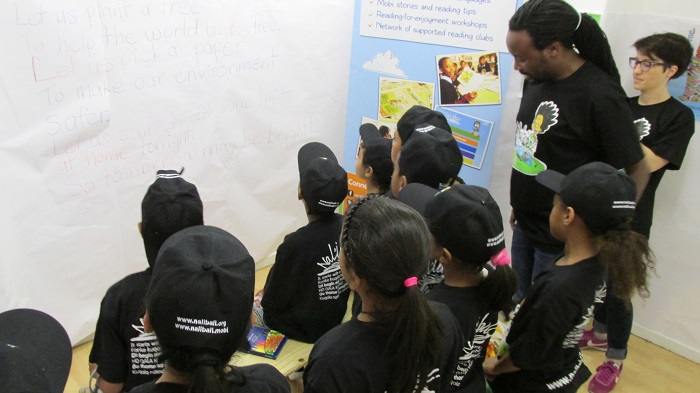 "At Nal'ibali, we support a network of over 300 reading clubs that use reading and writing to spark children's potential. These clubs are based in the heart of communities, using spaces such as schools, libraries, homes, crèches, parks and even containers as venues. The clubs are therefore invested not only in creating a welcoming space for children, but also in taking care of their surroundings," commented Sally Mills, Nal'ibali Networks and Communications Coordinator who facilitated the event.
Launched in 2012 to help create the conditions the support children's initial and ongoing literacy development, Nal'ibali is driven by the Project for the Study of Alternative Education in South Africa (PRAESA). A core objective for the campaign is to raise awareness in parents, caregivers and communities about the critical link between reading for enjoyment and educational success in children – with World Design Capital a great opportunity to do so.
Explains Mills: "Sadly, only around 5% of parents in South Africa read to their children. Our recycled reading-for-enjoyment seats will serve, on the one hand, as talking points for the major opportunity parents and communities have to help make their children successful learners at school, even by reading or sharing stories with them for just 15 minutes a day; and on the other hand, they will serve as physical points where storytelling activities will take place with reading role models to share stories and demonstrate reading and writing activities that can be done at home with children to help grow a culture of reading in SA."
Responsible for the creation of the first seat, and leading Saturday's art activities, was local sculptor Justin Stuart. Using his almost twenty years experience in the field of float design and three dimensional model creation, Stuart created the Nal'ibali fantasy seat using a discarded garden chair and collected chipboard.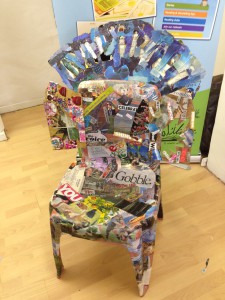 Embellishing it with book wings and a headrest, Stuart said: "Education and literacy enable people to adapt to our world. Life is an ever-changing force, and reading, be it books, letters or online literature, is probably the quickest and deepest way to read the pulse of our civilization. Nature is a formidable force from which I draw my own inspiration."
Under Stuart's guidance and following an interactive reading and short poem recital on the environment from visiting author and poet, Frank Malaba, the participating children transformed Stuart's framework into a colourful explosion of words, letters and environmental imagery using old newspapers and magazines brought from home.
Members of Nal'ibali reading clubs across the country will now be encouraged to make their own literacy chairs. Additional up-cycled chairs and benches will also be placed in public spaces across Cape Town in conjunction with other local artists for the remainder of the year to connect reading with pleasure, community and the creative potential of all children.
Nal'ibali will be hosting monthly storytelling sessions and events from the World Design Capital Pop Up Space at 150 Long Street. If you would like to attend a session, please email info@nalibali.org for more details.
For more information about the Nal'ibali reading-for-enjoyment campaign, free children's stories in a range of SA languages and tips on reading and writing with children, visit www.nalibali.org, www.nalibali.mobi or find us on Facebook and Twitter: nalibaliSA.