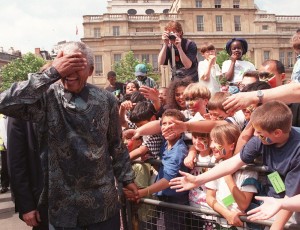 "What counts in life is not the mere fact that we have lived. It is what difference we have made to the lives of others that will determine the significance of the life we lead."
-          Nelson Mandela
The 18th of July is the 5th Nelson Mandela Day celebration, and we want you to celebrate by giving 67 minutes of your time to a reading club near you.
Spend your Mandela Day doing what our reading club volunteers do every week, and help ignite a culture of reading for pleasure. Nal'ibali reading clubs around the country are looking for your support, in the forms of books, volunteers, bookshelves, snacks and more.
We have listed 67 ways to celebrate Nelson Mandela Day here, but to make it even easier, here are five reading clubs that could use your support!
A re buiseng Reading Club (North West)
A re buiseng reading club – consisting of roughly 25 children – meets every weekday after school, from 4-5pm, in a dusty local garage in Moretele Village. G-nette Gabonnwe (club founder and leader) says they most need the materials and support to build or buy a wendy house, so the children have a space that is clean and safe – and most importantly their own.  To support A re buiseng, please contact G-nette at 072 303 7332 or gnettsis@gmail.com.
Amaqhawe Akusasa Reading Club (Gauteng)
This club meets on Saturdays, from 10-12.30. The club is multilingual – at any time you can hear English, Sesotho, isiZulu, Afrikaans and isiXhosa being spoken. Bongani Godide, the club leader, says that the club most needs cushions and chairs for members to sit on; bookshelves, to store their books safely, and reference books/education materials for the older children. To support Amaqhawe Akusasa, please contact Bongani at 084 524 8670 or Bongani.praesa@gmail.com.
Kamvelihle Reading Club (Eastern Cape)
Kamvelihle reading club is for children ages 8 to 12 years old, and meets on Wednesdays from 2-3pm at Duna Library. Kamvelihle is looking for volunteers, to tell stories and read with the children. This club is very new, and so is still building their book collection. If you can't volunteer time, help Kamvelihle give their members access to a wide range of books by donating both fiction and non-fiction books, in English and isiXhosa. To support Kamvelihle, contact Tsepiso Nzayo at tsepiso.praesa@gmail.com.
Inyaninga Teen Reading Club (KZN)
It's never too late to spark a love of reading! Help get teens enthusiastic about reading and donate teen books to Faith Shabangu's Reading club in Pietermaritzburg, which meets every Tuesday. Refreshments for the members would also be appreciated, as often they have to learn on an empty stomach. To support Inyaninga, please contact Faith Shabangu at myafricanchild@gmail.com or 071 855 4255.
Silukhanyo Reading Club (Western Cape)
Silukhanyo reading club is based in Khayelitsha, and meets every Saturday from 10-12. Being a bilingual club (members speak both isiXhosa and English), they are looking for books in both languages and dictionaries to help them learn. If you don't have books to donate, the club is also looking for educational games and activities to make the sessions fun and varied. And because the club meets in a small room, cushions for children to sit on would take up less space than big chairs – and make the space comfortable! To support Silukhanyo, contact Vuyelwa Rola at vuyis@webmail.co.za or 073 734 8776.
 There are many other clubs that need your support! Don't forget, supporting reading clubs is for everyone: gogos, uncles, cousins, papas and children included. To support one of the many clubs not listed here, please visit http://nalibali.org/support-us/reading-clubs/.
Dont forget to download our 67 ideas to grow reading and writing in children here!