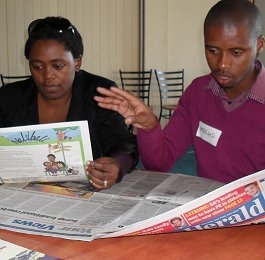 One could have easily mistaken the adult reading workshop for a pre-school class as grown men and women jumped up and down, sang and performed theatrics – all in the name of promoting literacy.
The Nal'ibali regional training workshop hit the Grahamstown area at the weekend as part of a national drive to get children and adults reading for enjoyment in a bid to inspire them to want to read and write.
Nal'ibali – Xhosa for "here's the story" – is making its way around the country, emphasising the value of stories and fostering a love of reading in children and adults in a nurtured environment.
The workshop – held at the Rhodes postgraduate village and aimed at everyone running or interested in starting up a reading club – equips volunteers with the necessary skills to achieve the campaign's objectives, fostering a culture of reading for pleasure.
The Nal'ibali initiative is a partnership between Times Media and the Project for the Study of Alternative Education in SA (PRAESA) and will see 6.4 million bilingual supplements distributed in the group's major newspapers – including The Herald.
The supplements will be included in The Herald every Thursday and the Daily Dispatch on Tuesdays, and 900 000 supplements will be handed directly to schools, reading clubs, community organisations and libraries.
Patti McDonald, a driving force behind the initiative, said the supplements would offer stories, tips on reading, support to reading clubs and other activities. "These are extremely resourceful," she said. "In them are pull-outs of stories that can be folded into a book form and read at the reading clubs or by individuals."
Teachers, postgraduate students, librarians, literacy organisations and "grassroots individuals" attended the Grahamstown workshop, hosted by PRAESA director Carole Bloch.
PRAESA researcher Ntombi Mahobe and community activator Malusi Ntoyapi showed those attending ways in which they could interact with reading club members to ensure they enjoyed and understood the stories.
"This initiative promotes multilingual reading – in one's home language and English – as it is very difficult to grasp another language without proper command of your own mother tongue," Mahobe said.
Comprehensive Literacy Outreach Programme project co-ordinator Cathy Gush said the Nal'ibali initiative was important to introduce not only reading, but understanding, from a tender age.
"When children read, they mostly focus on the technical side of reading and become obsessed with reading to improve knowledge," she said.
"Now we are trying to nurture that element of reading, but for enjoyment, through the promotion of reading clubs."
This article originally appeared in The Herald, 4 June 2012.  
Image: Zandile Mbabele