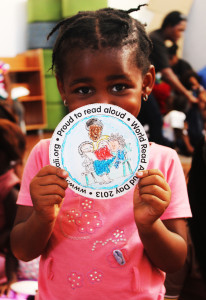 On March 6, 2013, the Nal'ibali national reading-for-enjoyment campaign called on all in SA to read aloud to the children in their lives in recognition of World Read Aloud Day. Now in its fourth year, World Read Aloud was started by LitWorld to celebrate the power and beauty of words, and advocate for children's rights to read and write.
With reading aloud shown to be "the single most important activity for building the knowledge required for eventual success in reading is reading aloud to children", according to the National Academy of Education & National Institute of Education, Nal'ibali teamed up with award-winning author and illustrator Niki Daly to offer a special story for all to enjoy on World Read Aloud Day - and help create a South African first with the largest number of people reading aloud at the same time.
To reach as many people as possible, Niki Daly's story A gold star and a kiss for Thoko was included in Nal'ibali's weekly bilingual reading-for-enjoyment supplement in partnership with Times Media. Two hundred and seventeen thousand (217 000) copies of the supplement containing the story and read aloud tips appeared in The Times, The Dispatch and The Herald in the Eastern Cape, Western Cape, Gauteng, and KwaZulu-Natal. An additional 30 000 copies were distributed directly to reading clubs, literacy organisations and schools part of the Nal'ibali network.
And as part of Nal'ibali's goal to connect people to quality reading material in a range of South African languages, the story was made available in six South African languages for viewing and download on the Nal'ibali website and mobisite. Parents and Nal'ibali partners were encouraged to print out the story and share it within their own networks… And share they did - reading aloud to 13 401 children for World Read Aloud Day!
Individual & partner support
Nal'ibali partner FunDza also shared the story in all six languages on its mobisite and platform on social networking site MXit, receiving 1 342 views across the languages.
One hundred and ninety-one (191) parents, caregivers, teachers, volunteers and librarians signed up on the Nal'ibali website, reading aloud to a total of 9 389 children – from sharing the story with one or two of their own children to reading it aloud to hundreds of children at their schools and assemblies.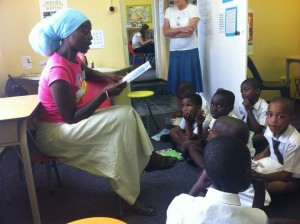 In addition, Nal'ibali programme partners spread the word – and story – among their own networks to help promote reading aloud as a reading-for-enjoyment strategy for children's literacy development. Nal'ibali partner, The Shine Centre (pictured left), distributed the story to 87 of the volunteers, who reached a total of 534 children. "They loved the story as did the volunteers and the Centre Managers. We were very happy to participate," says Linda Codron Shine Communications Manager.
In Queenstown in the Eastern Cape, and Underberg in rural KZN, 20 reading clubs and four Khululeka family literacy groups part of the Family Literacy Project shared the story to 295 children.
Soul City also came on board, sending the story to its network of Soul Buddyz Clubs across SA. Says Nelisiwe Hlophe, Soul Buddyz Clubs Manager: "The story was read aloud in 3000 Soul Buddyz clubs!"
Nal'ibali mentors spread the word
As co-initiating partners and founders of the Nal'ibali Campaign, PRAESA's own team hit the ground to help get people hooked on reading aloud long after March 6. Nal'ibali Cluster Mentor for Gauteng, Bongani Godide, kept busy over World Read Aloud Week, sharing the story with 450 children at Motjoli Primary School, where crew from SABC 2's Morning Live came to film the event; 105 children in Daveyton; 120 children at Leratong Primary School and 60 children at his own weekly reading club,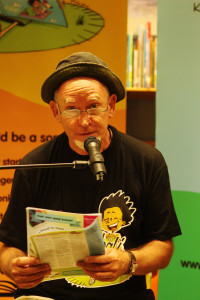 In Cape Town, Nal'ibali hosted two read-aloud events – sharing the story in isiXhosa with over 300 children at Harare Library in Khayelitsha, and 60 children at a special reading with the author himself, Niki Daly, at Central Library.
In addition, Nal'ibali Cluster Mentor for Western Cape, David Jeffery and Nal'ibali Programme Coordinator and storyteller Malusi Ntoyapi read aloud to 400 learners at the Lathi-tha School of Schools and 30 children at the Philippi East Library.
KwaZulu-Natal Cluster Mentor Gcinimuzi Radebe and his team gathered the Grade 1 to Grade 6's at Efefe Primary School under a tree on the school grounds. "After the reading we asked them to read aloud to their fellow students too. As we had copies of the story, we divided the kids into small manageable groups and assigned each group with a volunteer. Each child read aloud to his group and then passed it to the next person to do the same. Next up with SizumphakathiPrimary School, where teachers lent a helping hand to facilitate read aloud sessions with the children. The newly formed Majomela Reading Club invited members of the community to come enjoy the story, too.
"We encouraged parents that they should be part of their children's reading activities and also to be good role models by reading books too. We then introduced the story, which we read together and helped children to understand the story and to also read aloud. Most parents were also involved in this process, especially the young ones! Some pledged that they would start reading and telling stories to their children," says Radebe, who adds: "After the event I had a casual chat with one of the grannies and she noted: 'I used to tell stories to my grandchildren, but ever since their father who works in Johannesburg bought them a television set, they lost interest on this culture of storytelling we had. They spend most of their time on television. But with programs like these, their mindsets might change'."
Radebe and his team of volunteers finished off with a read-aloud session at Qalakahle Crèche, reaching a total of 458 children!
In the Eastern Cape, Cluster Mentor Malusi Puwe took A gold star and a kiss for Thoko to Ikhwezelihle Primary School, where the task of reading aloud the story was given to grade 5 leaner.
Says Puwe, "the children admitted that no culture of reading that has been instilled in them. Yes, they know a few stories that have been read to them by their teachers but not at home."
At Enqileni Senior Primary School, one of the students was also given the task of reading aloud to the rest of the school, taking the total number of children read to in the Eastern Cape to 1 200 children!
Hitting the airwaves
In support of Nal'ibali's drive to get SA reading aloud on March 6th, the Breakfast Stack on Durban's East Coast Radio, with a listenership of 1.9 million, launched a call to listeners to download the story – and shared their own attempt at reading aloud online.
Jet Club supported the drive by sending members read aloud tips and a link to the story to its subscribers; and Child Mag promoted the initiative via its website and social media platforms.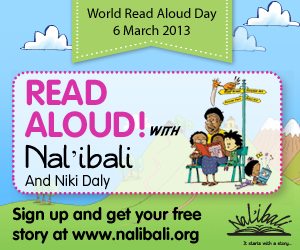 And through an ongoing partnership with with Kagiso Media, who run MSN in South Africa, banners promoting Nal'ibali's World Read Aloud Day drive with Niki Daly were run across the Kagiso Media network, including Skype, MSN, Zalebs, as well as the East Coast Radio and Jacaranda Radio websites.
"Improving literacy among the next generation of South African's is a cause that is closely aligned with the goals of the Kagiso group, and the team at Howzit MSN. Aligning with Nal'ibali to promote literacy on World Read Aloud Day was a natural choice, and a project we are proud to offer our continued support," says Steven van Hemert, Executive Producer, MSN South Africa.
Finally, award-winning jazz singer and mother of five Judith Sephuma called on SA to read aloud to their children through an exclusive interview with SowetanLive in support of the Nal'ibali reading-for-enjoyment campaign.h Nal'ibali to promote literacy on World Read Aloud Day was a natural choice, and a project we are proud to offer our continued support," says Steven van Hemert, Executive Producer, MSN South Africa.