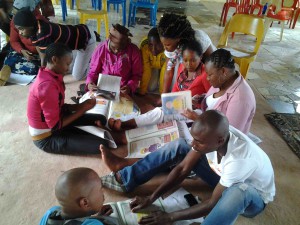 Did you know that you can play a vital role in the development of the children in your life simply by sharing stories and reading books with them? Not only are reading and telling stories enjoyable and satisfying activities for everyone involved, but these activities have lots of other great benefits too!
For example, reading and being told stories helps children develop their imagination and creativity; their language and thinking; and helps to make them successful learners at school. Now, Nal'ibali is offering you the opportunity to kickstart your children's success by attending a free public training workshop to help you learn exactly how to do this with our reading for enjoyment workshops.
How you can spark the potential in your children:
Most of us need a little help when we start reading with children for the first time and, for those of us already reading with our children, increasing our skills can enhance and expand the experience.
What will I learn at a Nal'ibali training?
Nal'ibali trainings are conducted in small groups in a fun, interactive and relaxed manner. The full-day training is run by a trained Nal'ibali professional with experience in children's mulitilingual literacy development.
During the session you will learn:
The benefits of reading and storytelling with children
Top tips on how to read aloud to children of different ages as well as how to choose what to read
Strategies on how to encourage children to write with meaning
The significant role you can play in your child's development – even by simply reading with them for 15 minutes a day!
Where to find reading materials and literacy support in your community
How to get your community involved in literacy development for children
Who can attend a Nal'ibali training?
Nal'ibali trainings are open to anyone interested in learning more about how to read and tell stories with children. Whether you would like to read at home with your children; start a reading club or bring reading to life in your classroom, library or reading group; anyone of any age, language and literacy level is welcome to attend. We want you to join our mission to make South Africa a reading nation!
When and where is the next Nal'ibali training?
The next Nal'ibali reading-for-enjoyment series of workshops will be held every Tuesday in Cape Town from 8 April to 30 June 2014. To find out more details or to register, email join@nalibali.org