As part of its national roll-out of a Children's Literacy Charter, Nal'ibali Cluster Mentors have begun sharing the Charter with the parents of their reading clubs and broader communities.
The Charter, a guide for adults and caregivers on the different kinds of literacy experiences all children need to have to become fully literate citizens, was excitedly received by the parents, grandparents, teachers and supervising adults of the children who attend Nal'ibali reading clubs in KwaZulu-Natal and Limpopo, where the first of a series of parent meetings around children's literacy rights were held.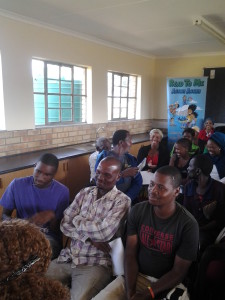 Nal'ibali Cluster Mentor, Gcinumuzi Radebe, who facilitated a parent meeting in KwaZulu-Natal, expressed his happiness at being able to share this empowering tool: "We have found the parents of our Nal'ibali reading clubs to be very supportive, showing an increasing interest in both our clubs and in their children's literacy development. Now, through the Charter, we are able to offer them a practical guide on the conditions we need to make sure are in place if children's are going to learn to read and write."
Speaking about her own involvement in the meeting, KwaZulu-Natal Nal'ibali Reading Club parent, Mrs Khumalo, said: "I've learnt a lot at this workshop and will definitely be using the Charter to help me support my children as they learn to read and write."
In both provinces, the discussions were also attended and supported by Na'ibali partners: the Bhekakani Care and Support Centre in KwaZulu-Natal and Room to Read in Limpopo.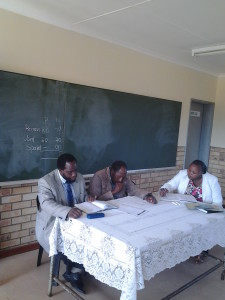 "We are excited about the Children's Literacy Charter as it clearly shows parents just how big their role in their children's literacy development really is and how easily and effectively they can be involved," commented Room to Read Literacy Facilitator, Maele Moela,
Her sentiment was echoed by Miss Ntuli, Bhekakani Care and Support Centre Manager, who added: "Nal'ibali is an incredible initiative and we are very confident that this Charter is going to get even more parents actively involved in their children's literacy education."
And, as the groundswell of parents and community members discussing and supporting children's literacy learning grows, prominent community figures have begun participating and championing the cause, too.
Mante Mohlahlo, Makhuduthamaga Libraries Manager, who attended the Limpopo event addressed and urged the adults in the room: "Your children have voices and are creative. Take time out to share a story with them. By offering them the opportunity to read and write with you, you'll explore the world together through books and really get to know each other!"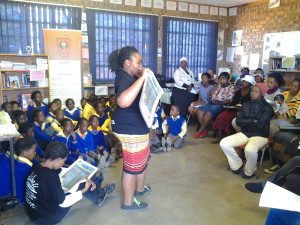 As for Limpopo Cluster Mentor, Rinae Sikhwari, one of the best parts of sharing the Charter has been to see the voices and ideas of the children from her club come through: "What makes the Children's Literacy Charter even more significant is that not only is it based on sound research and put together by literacy experts, but, it has also been shaped by input and suggestions from the South African public including the volunteers and children of our very own reading clubs. To have these ideas come to life and to have the parents of these children take up their cries, has been an inspiring reward."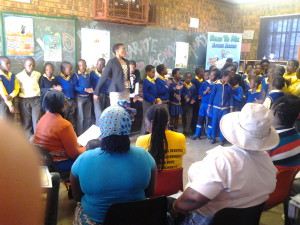 As more discussions and dialogues around the Charter continue across the country, PRAESA – which drives the Nal'ibali campaign - has begun delivering 14 000 copies of the Charter to schools, libraries, NGOs and more than 180 reading clubs that form part of the Nal'ibali network of reading clubs across the Eastern Cape, Gauteng, KwaZulu-Natal, the Free State and the Western Cape provinces.
When parent's support children's literacy rights, we start to see the ripples of changes in communities.