This September we released the 100th edition of the Nal'ibali newspaper supplement (click here to browse our archive). As the only bilingual resource of its kind in South Africa, the supplement bridges home, community and school to encourage and enable reading for enjoyment among adults and children of all ages. Since the supplement launched in June 2012, more than 20 million copies have been published and distributed across six provinces. To celebrate the supplement and all the magical moments it has created, check out our photo essay below:
Gogos from the Masakhane Seniors Club in Lower Crossroads, Cape Town, having a lot of fun cutting out stories from our supplement to take home and read with their grandchildren. The best part of adults interacting with the content is that they always have memories and experiences to share based on every story!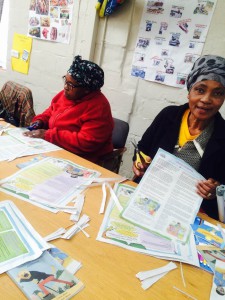 Any child learning to read and write requires opportunities, recognition, interaction and role models to do so. Pictured here, children from Seatile Primary School in Bekkersdal, Gauteng, busy writing stories using the pictures from the Nal'ibali supplement.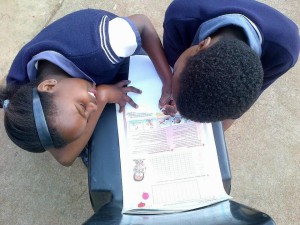 This is Abubakar Mohammed and Shyanne Zoe Minnie, Gr.1 children from Anjuman Islam Primary School in Cape Town. Their teacher, Rabia Jadwat, sets an allocated reading time every week to share supplement stories and tips with her class! From 'Just right' by Vanessa Burnett (Cambridge University Press) to 'Ouma's Ruby's secret' by Chris van Wyk (Pan Macmillan), Rabia says the children absolutely adore the cut-out-and-keep stories!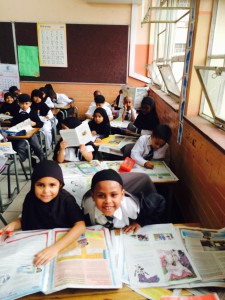 These children from Takalani Primary School at Mukula village in Limpopo enjoy their reading club every week, ran by the school principal. They use the tips and stories in the Nal'ibali supplement to run their sessions, and really enjoy cutting out the stories to take home.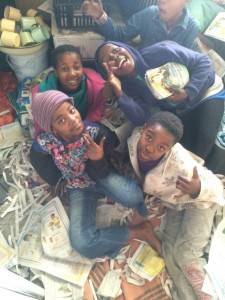 During Nal'ibali's World Design Capital pop-up on Long Street in Cape Town, a 3-year-old girl walked in with her mother and pointed at the supplements. She sat quietly for the duration of the reading club session, copied the other children and eventually cut out a few stories, including the story we shared, 'Shorty and the Billy Boy' by Gerard Sekoto (Jacana Media), and piled them neatly on the side. She was so thrilled when we gave her the cut-out-and keep books to take home!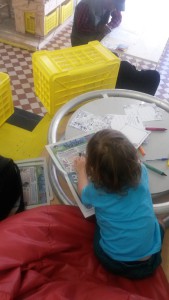 These two students, Xolisa Albert (eight years old) and Oliver Bjorkman (nine years old), from Pinelands North Primary School in Cape Town are good friends and enjoy sharing the supplement stories with each other. Their teacher Bronwyn said that the supplement stories are a favourite with Xolisa (on the right) who keeps his own library of supplement stories. They love that now the supplement prints up to three new stories in each edition!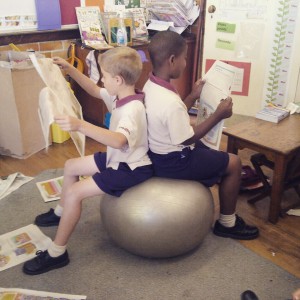 Our tiny tots in the Evaton West reading club in Johannesburg absolutely love it when they receive new supplements. This was just before they started cutting out the story 'How lion got his roar' by Gcina Mhlophe (PUO), for a session of animated storytime with their Literacy Mentor. The stories come in different languages, and the little ones often ask their Literacy Mentor to first read the story in isiZulu before reading it to them English. Now even more children can enjoy the stories as the supplements are now available in English, isiXhosa, isiZulu, Afrikaans, Sesotho AND Sepedi!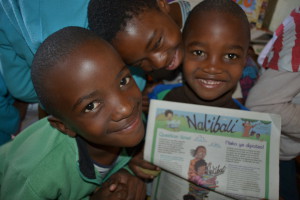 One of our partners, Family Literacy Project based in Underberg (KwaZulu-Natal), run their own reading clubs using Nal'ibali supplements. "Children feel a sense of ownership and pride after they create their own bilingual cut-out-and-keep books" says Nadia Lubowksi, Nal'ibali's Storyplay Coordinator. This inspiring moment shows the children's finished cut-out-and-keep story called 'Oh no!' by Carole Bloch and Nikki Jones, published by Jacana.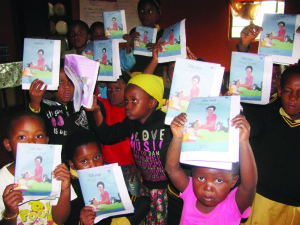 Members of the Thusanang reading club in Thusanang, Gauteng, holding up their cut-out-and-keep storybook version of 'Where is Patch' by Wendy Hartmann. Since its launch in 2012, the following publishers have given Nal'ibali the rights to translate and share abridged versions of some of their most popular children's titles: Cambridge University Press, Jacana, Book Dash, FunDza, Heartlines, Izilimi Zase-Afrika, LAPA, New Africa Books, Pearson, Penguin, Persona Doll Training, Puo, Songololo Books, Struik, Tafelberg and Pan Macmillan.
Clowns without Borders created a special performance that brought print to life for the launch of the Nal'ibali supplement in June 2012. The performance toured around Cape Town visiting a dozen schools and libraries to help introduce the supplement to South Africa. Pictured here are the Clowns without Borders SA with their French counterparts at Harare Library, Khayelitsha. Since then, Nal'ibali has created 100 editions of the supplements, filled with tips, articles, and multilingual stories available in SIX provinces!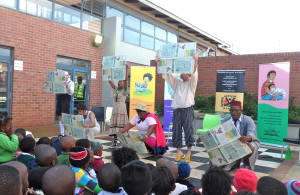 If you have an inspiring supplement moment to share with us, simply email us at info@nalibali.org and we will feature YOUR picture!