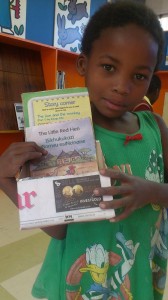 This May the Nal'ibali team travelled the country, doing live reading club demonstrations. These training sessions offer participants a clear understanding of the purpose of Nal'ibali reading clubs (to promote reading for enjoyment as a literacy development strategy) and to give practical advice on how to organise activities, create a safe and nurturing reading space, and most importantly, to encourage reading for pleasure! 
The live demonstration training is divided into three sessions. The first two sessions focus on planning: for example, how to use reading club documentation (such as registration forms and safety guidelines) and how to plan a reading club session. The third session is a live demonstration of a reading club session, during which the volunteers learn activities and experience the atmosphere they are encouraged to create within the reading club environment. This final session demonstrates the importance of activities, open-ended questions and engagement between the volunteers and children.
LIMPOPO
In Limpopo, Nal'ibali's Program Support Officer Malusi Ntoyapi worked with the Nal'ibali Cluster Mentor in Limpopo Rinae Sikhwar to demonstrate a reading club session to volunteers from Room to Read and teachers and school librarians from the region. For Brenda Phatlane (a volunteer at Makubarate Primary School), the highlight of the session was learning the best ways to organize games and activities, and the chance to practice her interaction with children in an informative environment. Malusi told story 'The Rain Bird' (which was translated by a volunteer in Sepedi so younger children could understand), and then as an activity the younger children drew birds, while older children were asked to make posters raising the awareness of cruelty to animals.
FREE STATE                                                  
The highlight of the Free State demonstration training, says Malusi, was seeing the power of stories give children the freedom to be children. "Another excitement I saw was when we were reading allowed 'Brown Bear' with the babies. The book is in English but we translated it to Sesotho, to demonstrate we can work with resources we have and create our own relevant resources. Every time they saw a new big picture they were so amazed and they would give the name of the animal in Sesotho. When we were talking about colours, children would represent the colours by showing us the clothing items they wore that had those colours. It was so interesting to see children making those connections from text to self!"
The session, which took place at Maguang Library in Rocklands, focused on reading aloud and child-led activities. For example, in the 'radio interview' activity, children took turns to be a character (or the author) and answer questions asked by the other children. The children also made Mother's Day cards, cut-out-and-keep books from the Nal'ibali supplements, and their own mobile libraries (boxes covered in newspaper to carry their books in).The Free State Cluster Mentor Sithembiso Nhlapho said the training made him feel "more confident to run a reading club session."
CAPE TOWN
The Cape Town session focused on the importance of reading-for-enjoyment and creating a print-rich environment in Early Childhood Development (ECD) centres, and how to choose books for young children. The training took place at Masakhe Educare centre in Lower Crossroads, and was also a chance for the Nal'ibali team to learn from the ECD teachers, who discussed the various activities they have been doing in their centres. One educare centre teacher promised "when you come around again you will see things on our walls!" while another said "Now we know what activities we can do with children. From today we clearly understand what an Educare centre is. We now know that children are not only here to sleep but also to learn."
EASTERN CAPE
The Nal'ibali team partnered with Project Read in Grahamstown, and Zama SA in Port Elizabeth, to run a very g took place at Masakhe Educare centre in Lower Crossroads, and was also a chance for the Nal'ibali team to learn from the ECD teachers, who discussed the various activities they have been doing in their centres. One educare centre teacher promised "when you come around again you will see things on our walls!" while another said "Now we know what activities we can do with children. From today we clearly understand what an Educare centre is. We now know that children are not only here to sleep but also to learn."
practical demonstration session, with lots of focus on the role of the volunteer in the reading club. As in Cape Town, the session also highlighted the importance using print materials to show children the link between oral and written language. One of the activities involved encouraging the children to practice their visualisation. After telling 'The Rabbit and the Lion', children were asked how they would distract the lion from eating the wife (iMibra). They suggested lots of different ideas, such as singing the lion to sleep, dancing for the lion and using various musical instruments. This led to a creative activity where children drew their instruments and wrote stories to accompany them, describing how they would use the instruments to distract the lion. One Zama SA volunteer said "We now have ideas on how to keep our children excited about books and using storytelling. This was a useful session!"