Nal'ibali's early literacy trainer and programmes support officer is one of Mail & Guardian's Top 200 Young South Africans for 2015! Take a look at Malusi's profile, his achievements and his passion for literacy and social change: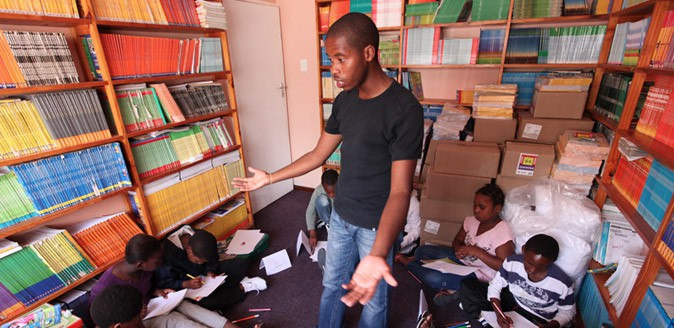 Malusi Ntoyapi works at Praesa (the Project for the Study of Alternative Education in South Africa) on the Nal'ibali reading for enjoyment campaign as an early literacy trainer and programmes support officer. As a committed activist he also runs a weekly reading club for children in his neighbourhood and plays a pivotal role in the youth programmes run by his church. Respected by his community and passionate about education, Ntoyapi is often described as tenacious and selfless.
"My childhood experiences and my first visit to the community reading club inspired me to do what I do now," says Ntoyapi. "When I was growing up I didn't have storybooks at home and the library was far away, but I loved reading so much. Now I would like all children from different walks of life to experience reading for enjoyment, have access to reading material and see literacy as a social practice."
Ntoyapi is currently working on a project through Praesa that ignites national conversations around literacy as a social practice that allows parents to reclaim their powers as the first teachers of their children. He is also planning on starting a programme that will allow the youth to engage with the Gogos and Mkhulus (grandmothers and grandfathers) and to grow the community reading club with other volunteers in his area.
"Literacy is a power that everyone needs to navigate around different worlds," he says. "The more people know about alternative ways of getting their children literate, the better our society will become. Social literacy practice gives adults and children a chance to bond, think and be creative. It allows them to develop social skills and language, and also builds confidence and allows people to give power to their voices."
One of Ntoyapi's biggest achievements was when he recently represented South Africa and Praesa in Sweden where Prize, a Praesa reading initiative, won the Alma award for reading promotion.
"Initiating a community reading club for children in my community and convincing others to get involved in different ways remains at the top of my achievements," he says. "Also, becoming a literacy trainer and implementing youth programmes that help young people access higher education is an enormous personal achievement for me." 
Originally published on Mail & Guardian