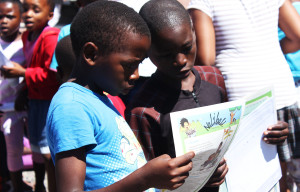 The Nal'ibali literacy supplement – produced in collaboration with the Project for the Study of Alternative Education in South Africa (PRAESA) as part of the broader Nal'ibali reading-for-enjoyment campaign – is now available in two new additional languages: Sesotho and Afrikaans. Along with the new languages, the distribution has also been expanded from four to five provinces, to include the Free State, as part of the Sowetan newspaper's regional offering of the supplement.
The decision to offer the supplement in two new languages and increase distribution is as a result of public demand and the overwhelmingly positive feedback received to date. "Exposing children to reading materials in their mother tongue is an essential tool to foster a love for reading from a young age," comments Patti McDonald, Publisher of Times Media Education. "Times Media's advanced distribution channels will now give more children access to fun and interactive content specifically created to encourage literacy development in children," McDonald adds.
The Nal'ibali national reading-for-enjoyment campaign, founded by PRAESA, with Times Media as a partner, has achieved phenomenal outcomes in promoting multi-lingual literacy development across South Africa. The supplement, which appears weekly in select Times Media newspapers, aims to spark children's potential through storytelling and reading by providing literacy materials in five South African languages (English, isiXhosa, Sesotho, Afrikaans and isiZulu). It is delivered directly to 300 reading clubs, schools, libraries and literacy organisations part of Nal'ibali's network of mentorship and support to inspire reading habits.
"Nal'ibali is excited to be able to offer supplements in an additional two language combinations - Sesotho-English and Afrikaans-English. This is a really significant step, enabling many more adults and children to read together in languages they feel at home in, and also marking our commitment to meeting the necessary challenge of growing reading in all of South Africa's languages," comments Carole Bloch, Director of PRAESA.
The supplement contains stories to read aloud or to read alone, related reading activities, as well as information and tips for adults about participating or starting reading clubs, and sharing the joy of books with children. Illustrated by Rico Schacherl, of Madam and Eve fame, the supplement is a regular resource allowing families at home to enjoy interesting and fun storytimes with children. The new languages will also facilitate the growth of reading clubs in South Africa – a key literacy development strategy for the Nal'ibali campaign.
As from 6 August 2013, Nal'ibali supplements are now available in the following Times Media newspapers:
KwaZulu-Natal: The Sowetan (English and isiZulu) on Wednesdays
Gauteng: The Sowetan (English and isiZulu) on Wednesdays
Western Cape: The Times (English and isiXhosa) on Wednesdays
Eastern Cape: The Herald and Daily Dispatch (English and isiXhosa) on Tuesdays and Thursdays
Free State: The Sowetan (English and Sesotho) on Wednesdays
Afrikaans supplements will be delivered directly to reading clubs in the Western Cape and Free State.