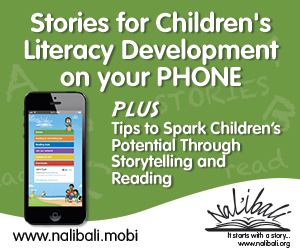 With 29 million South Africans using mobile phones (Neilsen Southern Africa, 2011), the Nal'ibali reading-for-enjoyment campaign is proud to deliver children's stories, literacy tips and updates to users via its new mobisite.
Visit www.nalibali.mobi on your mobile phone for:
Children's stories in Afrikaans, English, isiXhosa, isiZulu, Sepedi and Sesotho
Tips and articles on ways to grow a love of reading among your children
Advice and strategies on how to run a reading club
Nal'ibali updates and a sign-up form to join the Nal'ibali network - anytime, anywhere.
Downloads and audio stories coming soon!