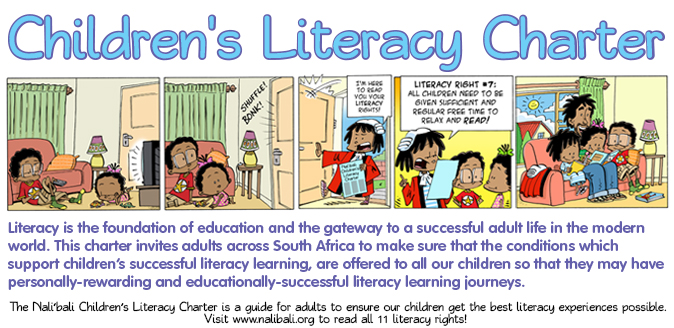 On World Book Day, April 23 2014, Nal'ibali proudly launched its Children's Literacy Charter to highlight the range of literacy experiences all children should have to best enable them to learn to read and write. Freely available in all 11 official South African languages as a poster or download, the Charter serves as a guide for adults, who are their children's first teachers, to do what they can to put the conditions and resources in place to ensure all children have equal access to their right to become fully literate citizens.
"Literacy is the foundation of education and a significant gateway to opportunities for success and fulfilment as an adult in the modern world," comments Carole Bloch, director of PRAESA (the Project for the Study of Alternative Education in South Africa) – a driving partner in the Nal'ibali campaign.
"Few people would argue that children deserve the opportunity to become fully literate citizens who are able to use reading and writing in their daily lives for the 'business of living' as well as for personal satisfaction. Thus, we have developed the charter as a guide to the essential literacy experiences adults need to provide for children in order to achieve this," adds Arabella Koopman, editor of the weekly Nal'ibali reading-for-enjoyment newspaper supplement.
The charter comprises 11 rights. It is based on sound evidence from research, input received from the South African public, fellow literacy organisations and experts – as well as from the children, reading club facilitators and volunteers who attend Nal'ibali Reading Clubs across the country.
"We hope to place a copy of the charter in every classroom, library, staffroom, office and home," says Bloch. "It's wonderful that we can offer it in all 11 languages. We're asking everyone to read it, discuss it widely and plan how to act on it. The charter outlines the kind of nurturing role we have to rise to as adults to support children into a culture of reading and writing. It's a challenge to join Nal'ibali and get reading and writing, no matter what age you are!" she concludes.
To start the nationwide distribution of the charter and spark collective discussions about what we can do as a nation to put these conditions in place, PRAESA has begun delivering copies to more than 130 reading clubs which form part of the Nal'ibali network of reading clubs across the Eastern Cape, Gauteng, KwaZulu-Natal, the Free State and the Western Cape.
Nal'ibali Cluster Mentors and Story Sparkers driving the campaign on the ground will also be handing out posters at specially-planned parent meetings, where community-initiated strategies for supporting the rights in the children's charter will be discussed along with practical ways to deepen community literacy practices in partnership with local stakeholders.
And, to further distribute the charter, partners including Biblionef, National Professional Teacher's Organisation of South Africa (NAPTOSA), LIASA, Van Schaik, the Centre for the Book, SA Booksellers and The Bookery have pledged their support in circulating the poster.
Download a copy of the poster in the language of your choice below, or email info@nalibali.org to request a poster of the Charter for your reading programme, NGO or school.
Download the Literacy Charter in English
Download the Literacy Charter in Afrikaans
Download the Literacy Charter in IsiZulu
Download the Literacy Charter in IsiXhosa
Download the Literacy Charter in Sepedi
Download the Literacy Charter in IsiNdebele
Download the Literacy Charter in Setswana
Download the Literacy Charter in Sesotho
Download the Literacy Charter in Tshivenda
Download the Literacy Charter in Xitsonga
Download the Literacy Charter in Siswati