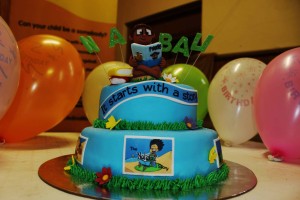 Having delivered close to 10 million reading-for-enjoyment supplements since its inception in June 2012, the Nal'ibali national reading-for-enjoyment campaign co-founded by Times Media and PRAESA (the Project for the Study of Alternative Education in South Africa) has achieved phenomenal outcomes in promoting multilingual literacy development across South Africa in its first year.
The supplement, which appears weekly in select Times Media newspapers, aims to spark children's potential through storytelling and reading by providing literacy materials in three South African languages (English, isiXhosa and isiZulu).
"In a world where being able to read and write effectively is so important, Nal'ibali helps to ensure that no child misses out on the magical pleasure that reading can give when provided in a language that they understand," comments Carole Bloch, Director of PRAESA.
Together, the partners developed 37 supplement editions over the past year which were not only included in Times Media newspapers in Gauteng, Eastern Cape, Western Cape and KwaZulu-Natal, but delivered and donated to schools, reading clubs and libraries in these provinces too.  In total the supplements included: 41 bilingual cut-out-and-keep books, 18 other bilingual stories, 23 Story Stars (individuals, reading clubs and organisations which are finding ways to make reading and writing part of children's daily lives) and 43 informative articles on reading and writing with children.
"Times Media is committed to promoting literacy development in South Africa and through our advanced newspaper distribution systems we have been able to deliver supplements to areas where they are sorely needed," comments Patti McDonald, Publisher of Times Media Education.  "When we look back over the year and reflect on what we have achieved, it is the feedback from those we reached out to that really brings it home," McDonald concludes.
And, the response from those involved with Nal'ibali has been phenomenal, with comments such as:"The excellent Nal'ibali supplements have been invaluable reading materials which helped with our limited resources… I love the inter-generational layout since it creates more parental involvement," says Brenda Rhode, Founder of the Young Authors Club in the Western Cape.
"The children at Yeoville don't have a library, so they line up with great excitement to get their supplements each week… The supplements really are their prized possessions," according to Lynette Jackson, coordinator for the Link@Yeoville in Johannesburg, Gauteng.
"One of the most useful aspects of the Nal'ibali supplement is it's bilingual which means that the language barriers that usually exist between volunteers and children are broken down…The most inspiring has been the increased interaction between the children as they develop their love of stories together…It's beautiful to see the children's enthusiasm when reading together," says Monwabisi Sisilana, principal of Ikhwili Elementary School in the Eastern Cape.
Expanding beyond the supplement, Nal'ibali also offers workshops to help caregivers develop a love of reading in children, as well as how to start and run reading clubs. It provides guidance and support to 80 reading clubs in six provinces and provides free information, materials, stories and encouragement via its website, mobisite and social media platforms.
Having accomplished so much in its first year, Nal'ibali looks forward to a fresh year ahead, expanding its supplements, and strengthening support into Afrikaans and Sesotho and adding the Free State to its distribution in 2013.