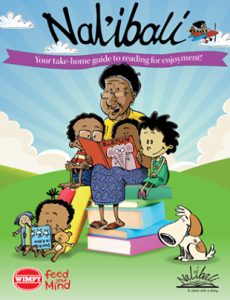 The South African National Library Service and The National Professional Teachers' Organization of South Africa (NAPTOSA) recently received a book boost of  172 200 books for distribution across South African libraries and schools from Nal'ibali, a national reading-for-enjoyment campaign, in partnership with Wimpy.
"Our libraries are thrilled to have received such a donation as I'm sure the other libraries are too – the children were gripped by the stories from the start. Written in a clear, simple style which makes every story accessible, it is a refreshing change to receive books with relevant content that the children can so easily relate to," comments Righardt Le Roux, the Programme Librarian at Westonaria Local Municipality – one of the many book recipients.
The books, comprising sets of six African Tales stories in English as well as sets of four Little Hands Books in either Afrikaans, Xhosa, Zulu, Sesotho or Sepedi, form part of a broader reading-for-enjoyment CSI initiative between Nal'ibali and Wimpy that focusses both on education and having fun.
"Education is the number one issue facing South Africa today and we want to help change that. We've partnered with Nal'ibali to get children and adults passionate about telling and reading stories," comments Marianne Fraser, Wimpy Marketing Executive. She continues: "Stories are the food of imaginative play and our aim is to provide a fun and relatable backdrop for parents and children to learn and engage in."
Confirming this, Dr. Carole Bloch, director of PRAESA (Project for the Study of Alternative Education in South Africa), which is driving the Nal'ibali campaign, comments:  "Enjoyment of reading and early literacy development really is key to ensuring a solid educational foundation for children and we are happy to work with Wimpy on an initiative that is so closely aligned with our own goal of sparking children's potential through reading and storytelling."
Wimpy and Nal'ibali have worked closely on this initiative, which also saw the giveaway of 252 000 books with kiddies' meals in all 500 Wimpy outlets earlier this year, and the additional distribution of 13 000 books to reading clubs.
"We are now looking forward to sharing a special guide to reading for enjoyment with all Wimpy customers," says Fraser. Made up of English, Afrikaans, isiZulu and Sesotho stories and tips to grow family literacy, the magazine will be available in-store from August until stocks last. Schools as well as reading clubs, creches and community-based or literacy organisations part of the Nal'ibali network, will also be receiving multilingual book packs together with their own copy of their magazine during the month of September.
"Together with Nal'ibali we will be dispatching 16 300 book packs to ensure reading clubs or communities also benefit from our collaboration," concludes Fraser.