Hlubi Mboya took the South African silver screen by storm with her heartbreaking performance as Nandipa in Isidingo. After ten years of successfully fleshing out this character with talent and sensitivity, Hlubi has moved on to the freelance world to "grow my craft and reignite my faith in the industry". Above and beyond her sprinting ambitions, she has always had a hand in social responsibility – working with organisations such as Reach For A Dream and the United Nations World Food Programme, and now the Nal'ibali reading-for-enjoyment campaign. She mentioned that it was her role as Nandipa that opened her eyes to the difficulties facing South African Society today.
In fact, during an interview with Jet, she spoke about how she agreed to her role in Isidingo because she "wanted to create a positive HIV/AIDS storyline to educate and inspire". Hlubi comes from a family deeply rooted in African culture, and it was her father's words that helped her make her this big professional decision:
"Nothing bad can ever come out of planting a good seed."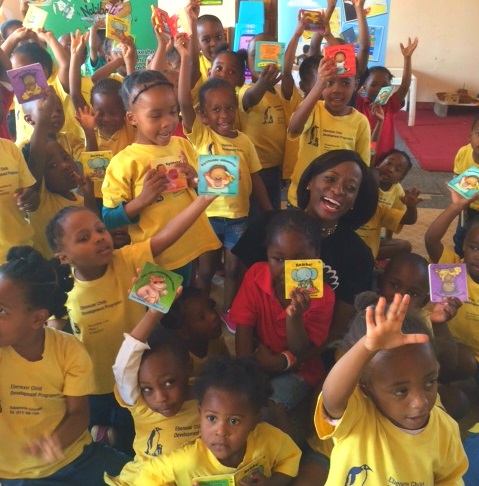 Les by her desire to make a difference, Hlubi approached us to get involved in the campaign, jumping at the chance to volunteer at the Ebenezer Early Childhood Development Centre (ECD) – one of 128 ECD centres supported by Nal'ibali through our StoryPlay programme. This initiative uses stories and play to spark curiosity and cognitive development very young children. What resulted was a heartwarming session where Hlubi used her own life experiences and acting to illustrate the power of stories to little ones.
All the world's a stage
The use of drama in storytelling is as old as stories themselves. In fact, when it comes to storytelling for very young children, drama and theatrical performances are what keeps them engaged. This is the basis of Nal'ibali's exploration of the method of 'storyplay', which gets kids to interpret and act out the characters themselves.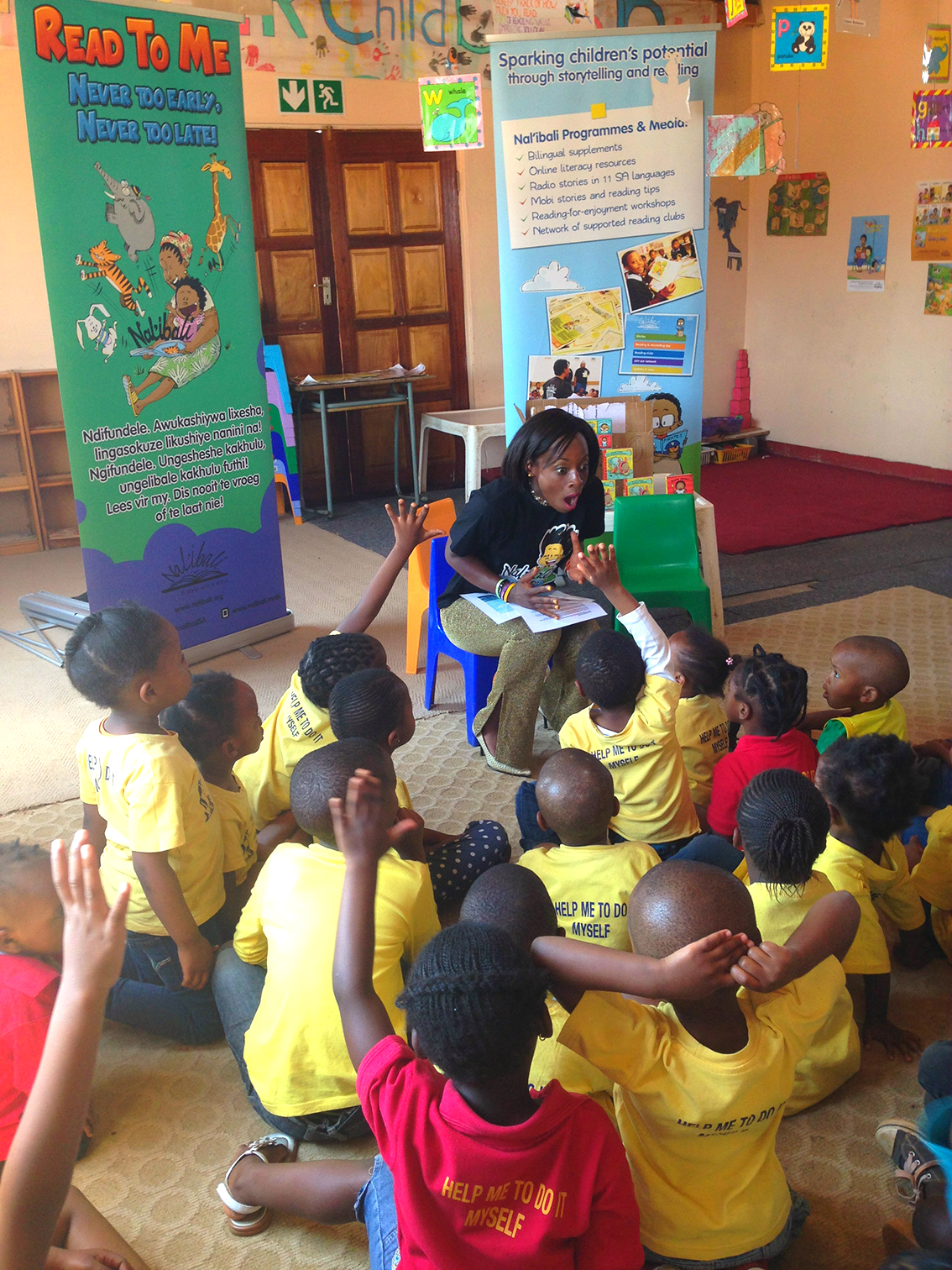 Hlubi put her skills to the test with a very demanding audience of four to six year olds. Her reading group sat enthralled as she performed a theatrical rendition in isiZulu of The Mermaid's Purse by Jude Daly – one of our multilingual stories written to help boost the availability of children's stories in local languages in South Africa. The reading by Hlubi was recorded and will be downloadable from Nal'ibali's mobi site for the public, for any parent to play to their kids.
At the end of the session, she handed over the Nal'ibali Literacy Charter to the ECD Centre with our Literacy Mentor from Gauteng – Bongane Godide. The Charter consists of 11 rights, which serve as a guideline for caregivers and parents to ensure that their children have a chance to become literate citizens. These rights have their foundation in sound evidence from literacy organisations and experts, the public, as well as from the children, reading club facilitators and volunteers who attend Nal'ibali Reading Clubs across the country.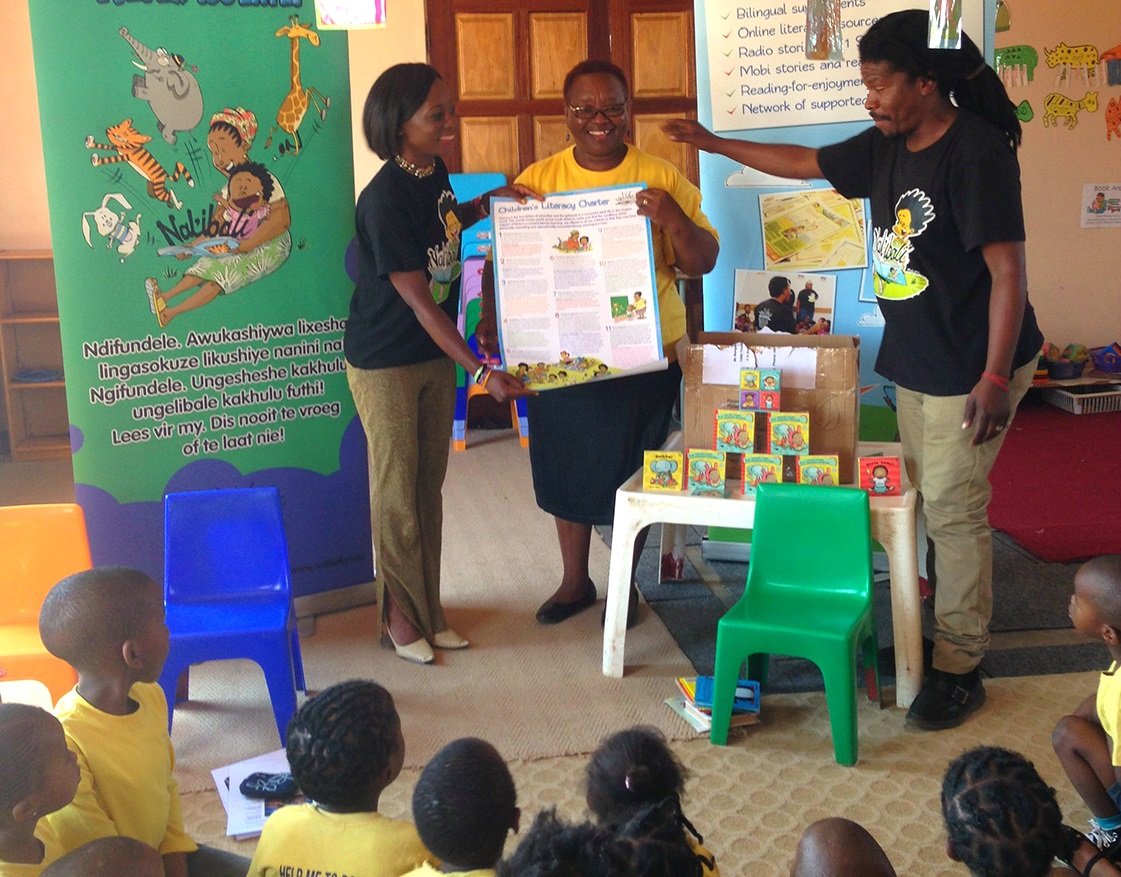 For us, it was an inspiring sight to see a famous and prolific performer use her art of storytelling to connect with a group of children. Hlubi's compassionate personality came through the moment she took the floor. The children decided to treat Hlubi to a reading of their own to show her how much they love books.  She was moved to tears as they opened by reciting a psalm, and blown away by the little pop up perfromance they organised - with a children popping up to say a few words about stories. What ensued was a lively and heartwarming reading session between her and the children.
Hlubi is living, breathing proof of how storytelling can build a person's views, their career, and their lives. Her presence at the Nal'ibali reading club this Literacy Month is an example of how we can inspire children, through our own unique successes and experiences, to embrace the transformative power of literacy.

Listen to Hlubi's reading of  "The Mermaid's Purse" right here!