To mark the close of International School Library Month on Friday October 31, Nal'ibali has partnered with the Gauteng Education Department and Gauteng Library and Information Services (LIS) to ensure that 1 000 schools in the province with libraries, partly functioning libraries, and classrooms libraries receive a copy of the campaign's Children's Literacy Charter, which outlines key experiences children need to help them learn to read and write.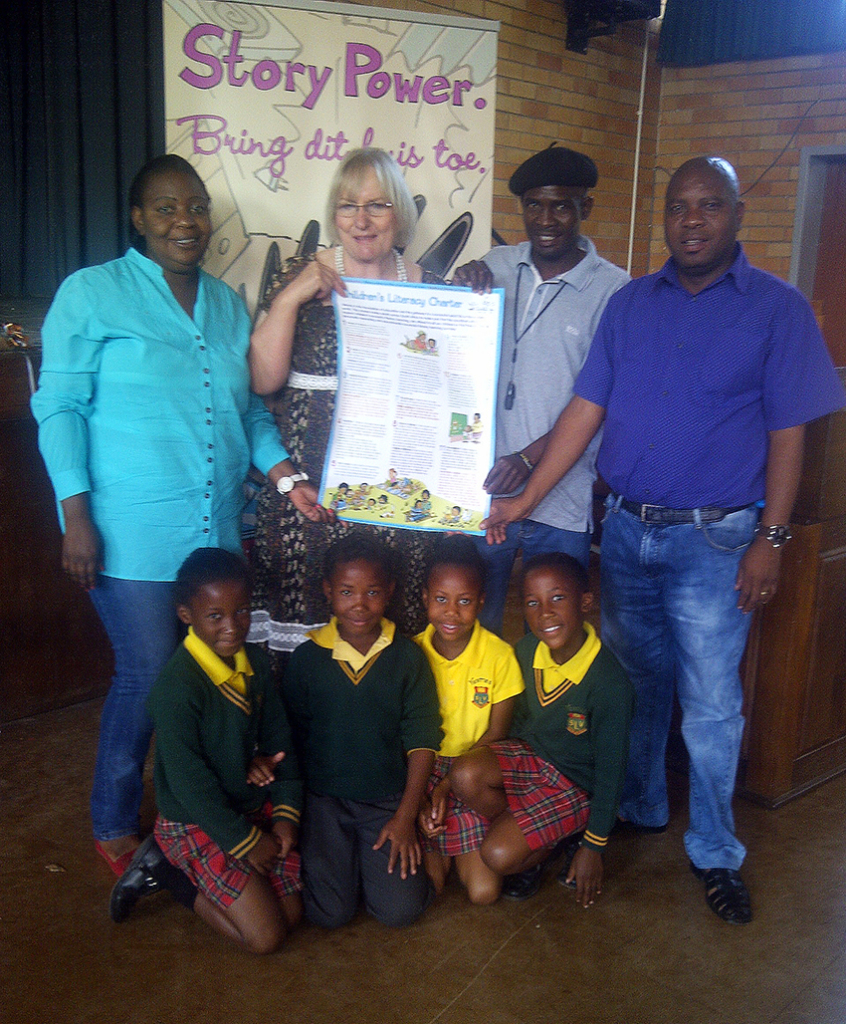 Launched on World Book Day this year, the Charter comprises 11 rights – to represent the 11 official languages of South Africa. Each right is based on sound evidence from research, input received from the South African public, fellow literacy organisations and experts – as well as from the children, reading club facilitators and volunteers who attend Nal'ibali's network of more than 300 reading clubs in six provinces across the country.
Examples of reading rights:
Inspiration: Children of all ages need people to read to them in ways which inspire them to want to read for themselves. Family members at home, teachers in their classroom and librarians at local or school libraries should read aloud to children regularly.
Access to material: Children need to easily be able to find a variety of reading and writing materials in their immediate environment. They need access to a large selection of story, and other books; whether these are owned, or borrowed from school and public libraries close enough to where they live. They also need to be surrounded by environmental print in languages they know and understand.
"All children deserve the opportunity to become fully literate citizens. We need to ensure the conditions that allow children to use reading and writing meaningfully in their daily lives and for personal satisfaction are put in place. Thus, we have developed the Charter as a guide to the essential literacy experiences children need to help adults achieve this," commented Righardt le Roux, Nal'ibali Schools and Public Library Coordinator at an official handover event at Venterspost Primary School in Westonaria on Friday.
"Partnering with the Gauteng Library and Information Services (LIS) and Education Department is a pivotal step for Nal'ibali; allowing us to reach even more librarians, educators, adults and caregivers in our mission to grow a culture of reading for enjoyment in the country," continued le Roux.
"We as library services are proud to partner with PRAESA and Nal'ibali - success at school depends strongly on literacy skills, and, only if a nation is literate, can it be truly an informed and democratic society," said Koekie Meyer, Director of Library and Archieves Gauteng, who took receipt of the Charters.
To date, 10 000 copies of the Charter have already been distributed to Early Education Centres, schools, libraries, literacy organisations and Nal'ibali reading clubs across the country. Partners such as Biblionef, the National Professional Teacher's Organisation of South Africa (NAPTOSA), LIASA (Library and Information Association of South Africa), Van Schaik, the Centre for the Book, SA Booksellers and The Bookery have assisted in ensuring the Charters are placed in the hands of as many caregivers as possible.
The Charter is also freely available in all 11 official South African languages as a poster for download. Members of the public are encouraged to download a copy in any language click here.