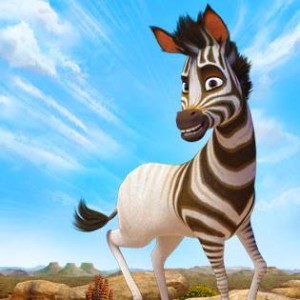 Cape Town based Nal'ibali, a national reading-for-enjoyment campaign, has joined forces with the forthcoming 3D movie, Khumba, released by Triggerfish Animation Studios, to create a special edition of the Nal'ibali supplement.  The supplement will feature a cut-out-and-keep story, inspired by Khumba, and will be published in English plus an additional three South African languages. The movie itself will be screened at cinemas in both English language and Afrikaans – a first for an animated movie.
This special edition of the supplement – which is available weekly in select Times Media newspapers in English-Afrikaans, English-Xhosa, English-Zulu and English-Sesotho – will be further distributed to schools in the Western Cape and Gauteng as part of a national schools tour featuring Khumba costume characters as well as to children at Virgin Active Kids Clubs.  This will ensure that as many South African families as possible can enjoy the heartwarming tale and are introduced to the Nal'ibali supplement which offers stories, literacy tips and reading and writing activities for caregivers to enjoy with their children.
In addition, the supplement will be distributed to reading clubs, as well as to literacy organisations, libraries, schools and early childhood development centers who are part of the Nal'ibali network that receive 30 000 copies of the supplement each week at no cost.  And, to further encourage making reading part of everyday life, a limited edition Khumba bookmark with literacy ideas for children will be distributed alongside the supplement to all Nal'ibali reading clubs.
"Of course multilingual literacy development is at the heart of the Nal'ibali campaign so when we were asked to translate an adaption of the story into isiXhosa, isiZulu, Sesotho and Afrikaans, we were delighted to get involved," comments Carole Bloch, Director of PRAESA (Project for the Study of Alternative Education in South Africa), which is driving the Nal'ibali campaign together with print media partner, Times Media.
"Nal'ibali is the perfect partner because they have a good understanding of the audience and they were able to help align the story to become a useful tool for young readers. With the translation of the story into additional languages, I'm hoping that children can relate even more to the universal themes that both the story and the film address," adds Khumba director Anthony Silverston.
In the feature film, Khumba, a young zebra, wants to fit in with the other zebras, whereas in the story, the little zebra wants to stand out. The common thread is how important difference is as it is what makes us unique and special as individuals and is not just skin-deep.
"I'm excited to see it all come together and can imagine that it will bring a whole new layer of humour and authenticity to the film," Silverston concludes.
As the promotional agency working on the movie, Dan Frost MD of Coppermonkey Promotions had this to say: "When we read the story that Anthony had originally written of How the Zebras Got Their Stripes we felt it was such a wonderful piece that we wanted to find an avenue where we could use this and after being introduced to the team at Nal'ibali, we discovered the perfect partner.  Reading is something that we as a team feel passionately about and we hope that the work Nal'ibali is doing will encourage more parents to read to their children and more children to take up reading themselves.  It goes without saying that we also hope that families will read the story of 'How The Zebras Got Their Stripes' and it'll inspire them to go and watch the movie!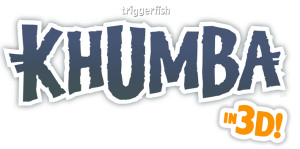 The story, How the Zebras Got Their Stripes, will be published in the week of October 14, ahead of the movie's release on October 25. To stand a chance to win one of five pairs of tickets to see Khumba in 3D, simply sms your name and the name of the movie to 32545 or email letters@nalibali.org by the 31st of October.
Khumba, the second 3D animated feature from the Cape Town-based Triggerfish Animation Studio, tells of a zebra who is born with only half his stripes. When he is blamed for the lack of rain by the rest of his superstitious herd, he embarks on a brave quest. In his search for the legendary waterhole where the first zebras got their stripes, Khumba meets a quirky range of characters and teams up with an unlikely duo: Mama V, an overprotective wildebeest, and Bradley, a flamboyant ostrich.
For more information, visit the Khumba website: www.khumbamovie.com