August 2014
In celebration of International Youth Day this Tuesday August 12, the Nal'ibali national reading-for-enjoyment campaign held a special teen library development programme at the Grassy Park Public Library earlier this month. Aimed not only at fostering a love of reading amongst local teens, but also at developing and shaping our young adults, the programme used teen literature to highlight and discuss the challenges faced by our youth today.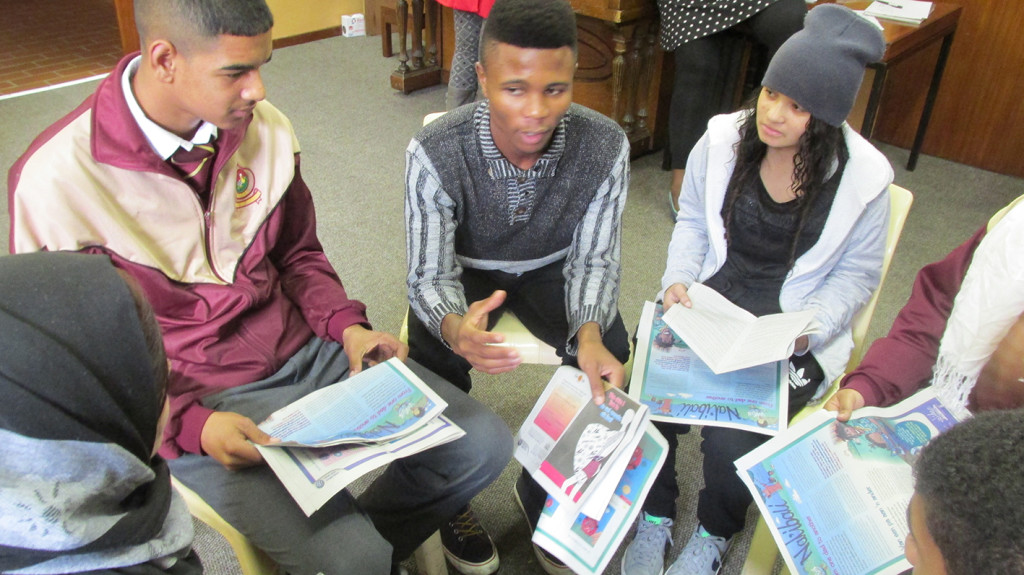 "Through books and stories we give teenagers the opportunity to hope, dream, and start believing in themselves. It's a great way to introduce different topics with teens and get them talking," says Nal'ibali Schools and Public Libraries Coordinator Righardt le Roux, who is championing teen reading for youth development.
Attended by Grade 11 and 12 learners from nearby schools, the teens were guided on the topics of self-identity and self-belief through a short story that recently appeared in the Nal'ibali reading-for-enjoyment newspaper supplement. The Skin I Live In, by Francessco Nassimbeni is about a teen herself, who grapples with the challenges of self-acceptance, her developing sexuality, tumultuous friendships and school career – something all teens can relate too. Each learner was given a copy of the supplement to take home and share with others.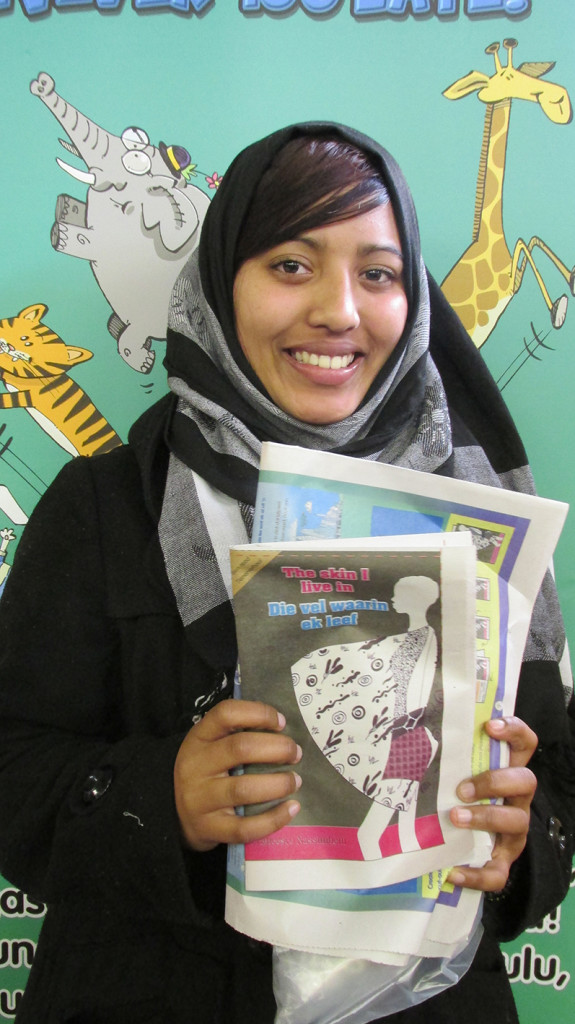 "We used the story to start a discussion about the main character, and, what developed was two very clear and conflicting views among the teens on the character's attitude and behaviour. This clash gave us an excellent opportunity to explore differing views on life and how the teens could relate and deal with these different perspectives in their own lives and through this, open the door to self-discovery," continues le Roux.
Sharing her views, Tasneem Isaacs from Witteboom High commented:
"It is not healthy, holding on to negativity, we should turn negative remarks into positivity, regardless of colour and remember, we are all the same."
The actor, playwright, poet and human rights activist, Frank Malaba joined the activities as a special guest for the afternoon. Sharing his poems as well as excerpts from his own stories and those of others, Malaba discussed his challenges as a young person who didn't fit in and how he used books and stories to overcome these problems.
To ensure engagement with books happens long after the event, Jodi Picoult and Samantha van Leer's book, 'Between the Lines' was suggested to the group for extra reading. Conde Naste also donated teen reading goody bags with magazines from its various titles to provide additional reading material for the youngsters to enjoy.
In addition, to ensure that reading for pleasure and development discussions continue in the community and are opened up to even more Grassy Park teens, Nal'ibali will soon be implementing weekly speed-dating sessions with books at the library where participants are given five minutes to select a book on a specific topic or genre using the cover, blurb and first sentence to determine its suitability and taking back to the group to promote.
The library has also been listed as one of the 102 public libraries across the City of Cape Town, which will start receiving the weekly bilingual term time Nal'ibali reading-for-enjoyment supplements that feature at least one new children's story in every edition, as well as tips for caregivers on how to develop children's reading and writing skills.
For Nal'ibali's recommended reading list of teen reads, more information about the campaign, as well as to access free children's stories in a range of SA languages and tips on reading and writing with children, visit www.nalibali.org, www.nalibali.mobi or find us on Facebook: nalibaliSA.