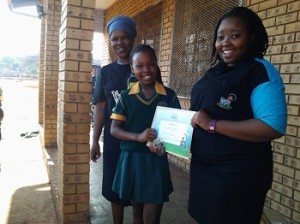 In celebration of international Children's Day in June this year, Nal'ibali launched a creative writing and drawing competition for children between the ages of three and 11, asking them to tell a story, by drawing or writing,  about what is special and important to them. We are pleased to say that after careful consideration, we have selected winners and runner-ups in each category.
Having received a total of 1 450 entries, we were overwhelmed by your response and enjoyed the review process very much – each entry was unique and special in its own way. The winners have each won a book hamper to the value of R10,000 from Cambridge University Press Africa Branch, and the runner-ups have each received stationery vouchers to the value of R750 from Waltons.
"Children are full of imagination and curiosity, and, when given the opportunity, they are capable of producing great stories themselves. We certainly saw this in the entries and hope the competition inspired you to express yourself and communicate through drawing and writing," commented Doctor Carole Bloch, competition judge and director of the Project for the Study of Alternative Education in South Africa (PRAESA), which is driving the Nal'ibali campaign.
Reflecting on the competition, assisting judge, Dawn Garisch, had this to say:  "The best thing about a competition is that it can encourage you to draw and write, and maybe you have discovered that you like to do these things, if you have not found that out already. My hope is that the competition made you want to dive into making words and pictures just for the fun of it. When you do a drawing or write a story or poem, you are putting a piece of yourself into the world, a little gift that says: 'Here I am.'"
Nal'ibali would like to congratulate everyone that entered, we enjoyed finding out about what is important and special to you, and we hope to receive more of your writing.  Your stories, poems and other forms of writing can be submitted on our website (http://nalibali.org/stories-for-all/your-stories/) or emailed to info@nalibali.org.
We also hope that you will enjoy our special eBook for families, caregivers and reading clubs which will feature the winning competition entries. The eBook will include writing tips and activities to inspire children to write their own stories and will soon be released – be sure to visit the Nal'ibali website regularly for news of its publication.
You can read the poem and writing submissions the 'Your Writing' section on our website.
Nal'ibali Creative Writing and Drawing Competition Winners: 
Best writing piece (winner): Yola Mpi (9 years old)
Best writing piece (runner-up): Joshua Peterson (9 years old)
Best poem (winner): Phemelo Sello (11 years old)
Best poem (runner-up): Ami Jackson (8 years old)
Best drawing (winner): Ibtieshaam Leets (7 years old)
Best drawing (runner-up): Nhloso Ncambule (7 years old)
Most entries (winner): Kannemeyer Primary School
Most entries (runner-up)Makubarate Primary School