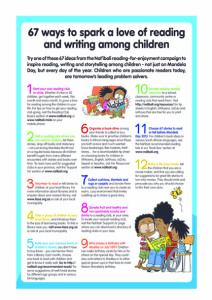 Try these ideas to inspire reading, writing and storytelling among children - not just on Mandela Day, but every day of the year, because children who are passionate readers today, are tomorrow's leading problem solvers. Once you've tried these, download all 67 ideas here!
Visit a reading club where you can read to children, tell them stories, drop off books and stationery – not just during Mandela Month but on a regular basis. All children benefit hugely from many different encounters with stories and books over time. Visit out Reading Club support section to locate a reading club near you!
Volunteer to read or tell stories to children at your local library. For more information about libraries and to enquire about your nearest library, visit www.liasa.org.za or ask at your local municipality.
Organise a book-drive among your friends to collect or buy books. Make sure to prioritise children's books in African languages since these are both scarce and much wanted. Scour bookshops, flea markets, thrift stores… For free downloadable tips on choosing books for children in Afrikaans, English, isiXhosa, isiZulu, Sepedi or Sesotho, click here.
Donate fruit, healthy and non-perishable snacks and drinks to a reading club, in your area. To locate your nearest reading club, visit the Nal'ibali 'Support Us' page where you can download a directory of reading clubs in your area.
Donate reading-related resources to a school, classroom, community centre or reading club that need them. Visit our Resource section for tip sheets in 6 S languages that are free for you to print and share.
Tell stories from the story bag: collect small items to put in a "story bag" (e.g. a ring, a doll, a puppet, a bunch of keys, a wallet, a bell, a sock, or a purse). Children can take turns pulling out items from the bag, and make up stories using these items. Stories can be told either individually, or in pairs.
Chain sentence: in pairs, children construct either a first or a last sentence for a story. Each child gives one word at a time until they are satisfied they have a meaningful sentence. Before they start, give them suggestions and examples  – e.g. the first sentence of an animal story, a ghost story, a school story, an adventure, a mystery, a love story etc. they can then continue to write the whole story if they like.
Take turns to tell stories from picture books, ignoring the words and making up your own story from the illustrations. Invite children to make up new names for characters and see how many different twists and turns you can come up with.
Story puzzle: photocopy a folktale you like and cut it up into scenes. You can number these so that the story sequence is clear, or let the group sequence their own story. Make sure you have enough scenes for the children if you are in groups.  Children prepare the different scenes of the story to either read or retell in their group. They need to keep the flow going as if one person was telling the story. Afterwards, compare the different ways children retold the same scenes.
Create a storybook wall: invite children to draw a picture of their favourite storybook character and write the name of the character and the story the character is from. Display all the pictures on a wall for everyone to enjoy. As you read more stories to the children, let them renew the storybook wall with new characters.
Organise a "dress up as your favourite character" day: allow time for the children to tell each other about the characters they are dressed-up as and the stories they are from. Post your photos on our Facebook page so that other children can admire their efforts!
Book treasure hunt. Give children a character's name or an object to find in a picture book (you will need several copies of the same book if you have many children). The first child or team to find the name or object, wins!
Don't forget, you can download all 67 ideas here.