This Women's Day we salute local librarians, teachers and literacy activists for being inspiring change-makers in their community.
The literacy librarian: Edith Khuzwayo
Edith Fezeka Khuzwayo, the Managing Librarian at the Murray Park Library in the City of Johannesburg, is one of those community members who should be celebrated not just on Women's Day but every day of the year. In addition to managing the day-to-day running of the library, as well as its literacy development programmes that are open to the community, she holds reading groups, poetry groups and writing sessions, and sessions to help children with their schoolwork.
This is in line with Edith's work with the Nal'ibali reading-for-enjoyment campaign, which provides free bilingual reading supplements for use in the library's reading clubs and programme. Says Edith: "The Nal'ibali supplements are used all the time in my library. I enjoy the process of showing the children how to make the cut-out-and-keep books inside the supplement, which we read together and display in the library whenever we can. Nal'ibali, through its resources, has shown me how to make reading a more fun and exciting activity for children so they are left wanting to read more."
Edith's goal is now to grow the reach of her library. "I want to see it accommodating high school learners, primary school learners and tertiary learners," she says. "It's so important that we're able to help each child that walks through the door – irrespective of their age – to not just be able to read and write, but to love reading and writing to grow a culture of reading in SA."
The reading role model: Cathy Gush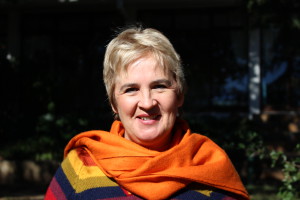 Cathy Gush, Literacy Manager at the Lebone Centre in Grahamstown, is an inspiring South African who embodies what Women's Day is all about. Using her experience to uplift her community, Cathy believes that books and stories have the power to change lives. Cathy says she was inspired by her mother growing up: "My mom always encouraged me to visit the library and read for pleasure; she was a keen reader herself. She took me to the library at the age of 4 to become a member. The librarian was great and I just loved all the books to choose from, so I was sold."
In her work and personal life, Cathy feels that "reading is part of the package that enables women to build their identity and to feel strong as individuals." She says books are what helped her to achieve her dreams and goals, the highlight of which was being part of fundraising for and the establishment of the Fingo Library, a community library in Grahamstown. Says Cathy: "I love seeing how young children respond and grow to love reading when you expose them to books and stories."
In addition to their own programmes, the Lebone Centre also works in partnership with the Nal'ibali reading-for-enjoyment campaign to run a network of 12 reading clubs around town. "It has been great to be part of a countrywide movement that has gained a lot of recognition," says Cathy about her work with Nal'ibali, which is driven by the Project for the Study of Alternative Education in South Africa (PRAESA). "It has also enabled us to get bilingual reading resources out to children and homes, and to bring in fun elements to literacy learning such as singing and dance," she adds.
Leading librarian: Marina van Wyk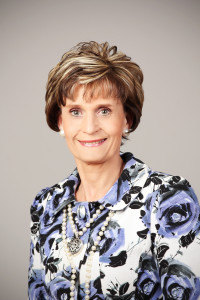 Marina van Wyk holds up the torch to inspire women in Emfuleni to drive literacy change in the community. As LIASA Librarian of the Year 2013 and Assistant Manager of Sport, Arts, Culture, Library and Information Services in Emfuleni Local Municipality, Marina oversees 15 community libraries and has been in the library industry for 34 years.
Marina places high value on reading programmes for all ages at libraries, as well as Early Childhood Development programmes, where caregivers are trained and receive the right resources to help their children become readers from early on. She says one of the highlights of her career was the establishment of reading circles for the newly literate and seeing the expressions of parents talking about their experience of going home and reading a story to their children for the first time.
Having struggled with epilepsy at a young age, Marina has had to overcome a number of obstacles in her life. Unable to obtain a bursary, she worked for years to pay for her professional education. She found solace in books and stories. Says Marina: "I grew up with the picture of my grandfather who always had a book on his lap.  I started using the mobile library that stopped near our home and when I was older, I would use my bicycle to go the Florida Public Library.  Books and the library were part of growing up for me."
Another inspirational point for her was working with the Nal'ibali reading-for-enjoyment campaign: "I was so inspired by them that I immediately agreed we get the training for all our libraries in order to have them participate in this beautiful and creative programme that uses stories and reading to spark children's potential. Nal'ibali emphasises my belief that to learn how to read children must first love reading; we must show them the joy there is in reading."
Her goal is to have community libraries in Emfuleni care for children of all ages; where the youth, adults, senior citizens, all feel equally welcome – irrespective of the diversity of their needs. "It is a dream for now, but not impossible," concludes the librarian. "I want to be able to say that I have contributed to a community of readers in Emfuleni. We're striving to support women and children who love books and stories, and who spread the message of the importance of books and reading for all people."