Dr Carole Bloch is the director of The Project for the Study of Alternative Education in South Africa (PRAESA), which is driving the Nal'ibali reading-for-enjoyment campaign. Her own experience of reading is one that brought her to where she is now: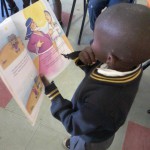 My favourite time all the way through school was at the end of a day, when our English teacher would say, "Put everything away, put your heads on your desks, shut your eyes and listen." Then we'd travel in our minds through the vivid worlds of storybook authors, sometimes familiar and sometimes strange, but always carried by the familiar and accomplished rhythm of our teacher's reading voice. 
The sense of liberation and satisfaction that getting lost in a great story offered, expanded into confidence as we found our own voices in the excited discussions that would often follow. We learned by listening, thinking and talking about how we would have approached the quandaries and challenges set before the characters. Risky thinking and imaginings became possible because these were 'just stories' and in the often arid 'answer-my-question' education terrain of the apartheid years, this was where we became really free to express our ideas and emotions and deliberate on right and wrong, good and evil.
Back then I didn't realise why it was so exhilarating and powerful, nor did I appreciate the educational point of it all. But now, as a literacy specialist, I do. And as we participate in World Read Aloud Day on the 5th March, let's consider what value reading aloud has and whether this value is significant enough to bring about action by the masses of teachers and parents in South Africa. In the National Department of Education's CAPS curriculum, hefty official time-slots go to phonemic awareness and phonics, as well as shared and paired reading, accompanied by a directive to always use books at or below the child's level of ability. Reading aloud is mentioned, even praised. But shame! It has no official time allotted to it in the teaching programme. We can change this!
Many, myself included, claim that it's one of the most important activities we can do with children of all ages, even when they can read for themselves – and that it sets in place, above all else, the foundations of a reading nation.
Another powerful, yet little appreciated, reason from a literacy-learning perspective for caring adults to read aloud to a child – not just on World Read Aloud Day, but every day –  is that the more rich, metaphorical story-language children hear, the more chance they have to understand what they read when they are on their learning-to-read journeys. This is because when anyone reads, or learns to read, they always bring the knowledge and information already in their mind to make their own personal meaning from the print. The richer their experiences, the more they understand. Nobody merely decodes print, except perhaps with a foreign language. That's when one 'barks at print' and understands nothing.  Decoding is NOT the first step to learning to read. It is but one of several essential steps.
Then, of course, stories we read aloud to children can be longer and include details and levels of complexity they generally cannot access on their own, but are quite capable of grasping with our support. Because the content of great stories includes sophisticated accounts and descriptions of plots, events and characters; information, perspectives and values; hearing stories read well encourages the growth of necessary literate thinking tools like knowing how to solve problems, evaluate, analyse, compare and empathise.
But for all this to happen, children need interactive role models to emulate. Adults have the power to choose what to read and where these young minds should travel. They are the life-givers to every story they share as they help to ignite a passion for things narrative – and to motivate a desire to read in youngsters.
Too many of us have grown up without being read to, so we may have small or non-existent story repertoires to recommend to others. Nor are many of us adept at reading aloud. But we can do it! The fact is that practice makes perfect. Adults and children alike develop as readers, story by story and book by book. What's good for the child is good for the adult!
So help us revalue stories at school and at home.  Download our special read-aloud story, retold by South African author Wendy Hartmann and available in all 11 official languages, to take part in the Nal'ibali reading-for-enjoyment campaign's annual World Read Aloud Day drive on March 5, 2014.
This article originally appeared in the Cape Times, 5 March 2014. For more info, visit www.praesa.org.za