Righard's reading group has grown a lot, from a mere 14 children plucked from informal soccer fields into nine different reading groups – totalling roughly 270 kids – reading every week! He and his team have also been asked to read at local schools during school hours, to help encourage reading for enjoyment among the students. He shares with us his views on building a literate nation, school by school: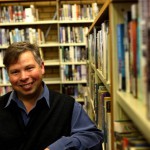 I am a 45-year-old programme librarian working for the Library Information Service in the greater Westonaria area. My work is my passion and I am lucky enough to live out all my loves – children, art and books – through it. I don't have any children of my own (that I know of!) but am blessed with hundreds of children in my life who also happen to love art, reading and writing.
One day I read about this amazing woman on Facebook: some kind of crazy doctor distributing thousands of books to less privileged children throughout South Africa. She sounded like someone I wanted to be friends with!
Our fast friendship resulted in this great lady (Carole Bloch, director of PRAESA) agreeing to fly up to Johannesburg to come and facilitate my second Born to Read programme. Not only that: she also agreed to be interviewed by my Grade 12 scholars as part of their annual CAT assignment. I was bowled over!
It also turned out she is in charge of Nal'ibali. After seeing her interaction with mothers and babies, sitting on the floor and chatting in isiXhosa while showing them how to play and read to their children… I was in love. Not just with the doctor handing out books, but also with Nal'ibali.
I signed Westonaria LIS up for the Nal'ibali supplements in The Times and we received our first batch of 250 copies! The first programme was at Simunye Community Library on the 5th of April 2013 with a mere 14 kids that I, with the help of my Library Youth Ambassadors, had collected off the streets. I have to confess the kids had to show me how to fold and cut the booklet… but we still had great fun.
Working in a library means I can't go anywhere without library resources, so for our first session I went scouting in the junior non-fiction section first. I ended up taking a whole mini-library with me; I had all sorts of books with the most interesting photos I could find!
I wasn't sure whether the children or I would enjoy this programme as communication proved to be problematic. Even though the children have English as a subject, in most cases it was very poor and I can only greet in Setswana. Thank God for my Library Youth Ambassadors, without whom we would have been lost.
Many more sessions have followed. Dictionaries were introduced, resulting in spelling bees. I try to make the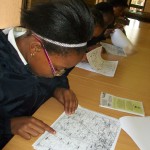 sessions fun and interactive! Recently, while reading the story Moving House / Ukuththa, atlases were used to find not only the different towns and provinces of South Africa but also towns and cities in neighbouring countries where children from across borders originate from. By doing activities like this, we all learn from each other while enjoying a good story. Carole always says we need to build a nation of readers person by person, but in Westonaria it seems we are doing this school by school...