Growing up in a home without books, London-based Roger Priddy spent much of his childhood at his local library, paging through books and gazing at pictures. Today, the Priddy selection of hardcover picture books is the first choice for many parents around the world, when introducing their baby or toddler to books. On Friday, 6 December, Priddy, together with publisher Pan Macmillan South Africa, visited a Nal'ibali reading club in Soweto as part of a handover of thousands of Priddy books to various reading initiatives, to help ensure that some young recipients have the chance to grow up with books.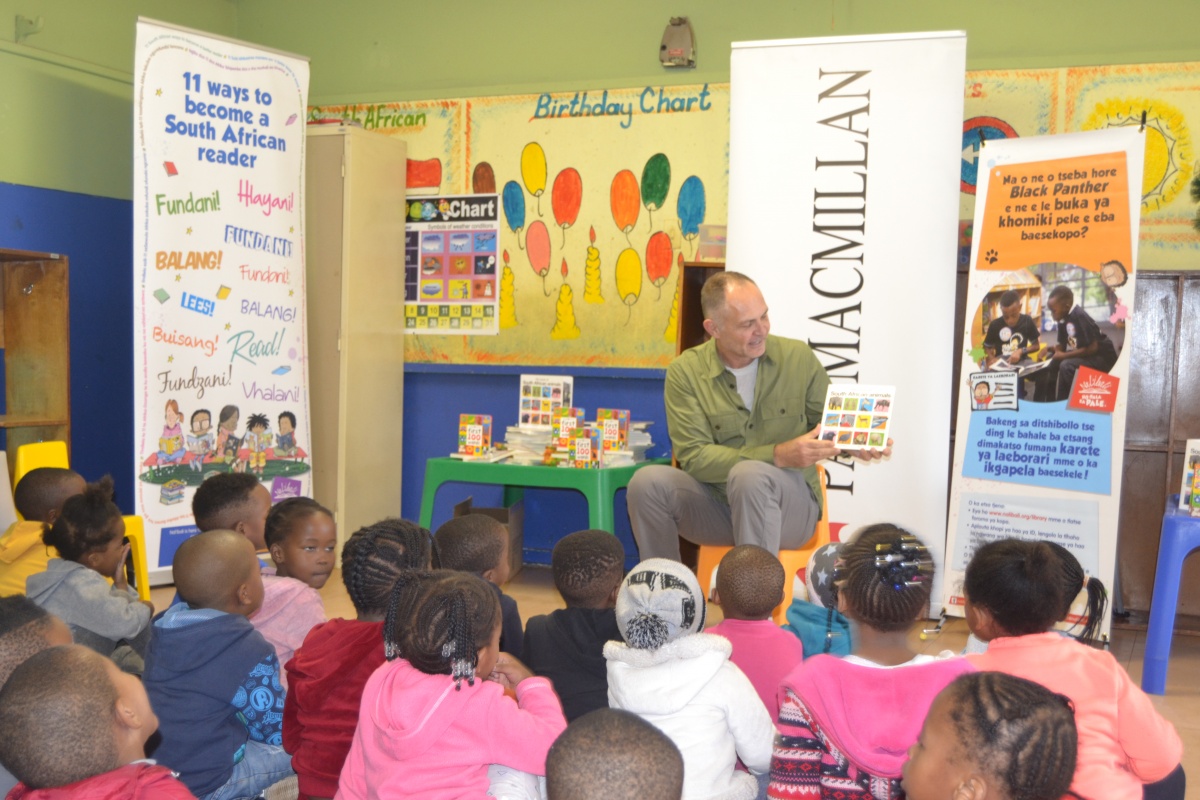 Nal'ibali caught up with Priddy at the handover. Here's what he had to say about his special relationship with picture books.
How did your relationship with picture books start?
My family didn't have any books when I was a child, so I used to spend ages in my local library as I loved looking at the pictures. Then, when I was at art college, one of my lecturers was an illustrator called Margaret Chamberlain. She illustrated picture books and it was the first time I realised that I could make books too.
Why is it so important to read picture books to a toddler or a baby?
Books are a wonderful way of getting parents and their children to sit and spend time together; it helps to develop a child's vocabulary and their understanding of the world around them. Thank you very much for choosing Nal'ibali as the recipient of the Priddy Books. Why did you choose Nal'ibali to be the recipient of this donation?
Nal'ibali's passion and commitment to building a reading culture in South Africa made it the obvious choice for Priddy Books to partner with. Its strong reading club network together with its innovative and fun campaigns resonated with the vibrant and accessible nature of our books.
Which books did you choose to donate to Nal'ibali and why?
It was important for us to choose books that would appeal to South African children and to the Nal'ibali communities and book clubs. For that reason, we chose a range of first concept books in English, isiXhosa, and isiZulu in addition to a wonderful first book of South African animals. These books are easy for parents to read and talk about with their children.
At what age can you start reading picture books to a baby?
As early as possible, as long as they are showing an interest. But, for babies and very little children, the sound of a parent or caregiver's voice, as well as simply spending time together does wonders for their development
How important are the illustrations in a picture book?
Just as important as the words in my opinion! I think they draw the child into the book and encourage them to learn more. But, pictures alone with no reading is good too, it really encourages the imagination.
Is there any special way to read a picture book to a toddler?
I don't think so… Maybe not having any other distractions would help so they and you can concentrate completely. If you are on a tight budget, and can only afford to buy three picture books, which books would you recommend and why? Well, obviously I would love to pick three of my own books, but honestly, I would recommend doing what I did as a child and going down to the library, sitting down and exploring all the wonderful books that you can find. There is nothing better than to develop a child's vocabulary and imagination!
For more information about Nal'ibali reading-for-enjoyment campaign, access to children's stories in a range of SA languages, to join Nal'ibali's volunteer network and sign up to its loyalty programme, visit www.nalibali.mobi. You can also find Nal'ibali on Facebook and Twitter: @NalibaliSA.