What made the team at Open Book Festival decide to take up the challenge of giving young children access to quality books?
From the start, we have been committed to doing whatever we are able to in order to increase learners' access to books. Books have such a far reaching impact on one's life and understanding of the world in which we live.
Can you tell us a little about the school book project - what it involves and how it works?
Initially the Open Book School Project saw us putting libraries into schools, but we came to realise that those libraries were underused. What we do now is put boxes of library books – we call them Open Boxes - into classrooms so that teachers and learners have access to books throughout the day. We work with the teachers to ensure that the books are relevant to the learners.
Are there any grades you strategically choose to target, or is it different for every school?
We piloted the Open Box project at St Mary's Primary in Cape Town and there we went through the entire school, donating boxes of books grade by grade. This year we worked with Siyazingisa and placed Open Boxes in each of their Grade R classes. We're looking to work with another Grade R group in Gugulethu in 2019.
Of course, it's not just books you give children access to, but also a culture of reading for enjoyment and fun. Can you tell us a little about the mentoring and event side of the project?
At each of the handovers, we run some kind of book related activity that's designed to get the kids excited about reading. This depends a lot on the age group we are working with, so this past year has been a storytime and drawing which is always loads of fun.
What has the feedback ben like, from teachers, kids and parents?
From teachers and kids, the feedback has been fantastic. It's been particularly tricky this year to source a range of books in isiXhosa, though. Teachers we've worked with have understood that at times we have had to put English titles into the boxes, but we always try to stock a variety of fantastic, exciting stories in the children's mother tongue.
What have some of your favourite moments been, working on this project?
Watching the kids get hooked into the stories that are being read to them is amazing. I don't think it's something anyone can get tired of! Lwandiso Ntanga of the Book Lounge has been central to the smooth running of the project in 2018. Watching him interact with the Grade R learners has been an absolute delight. The world missed out on a very gifted teacher when he went the route of bookseller! As a mother-tongue Xhosa speaker, he's ideally suited to speak to the children and share his passion for books, too.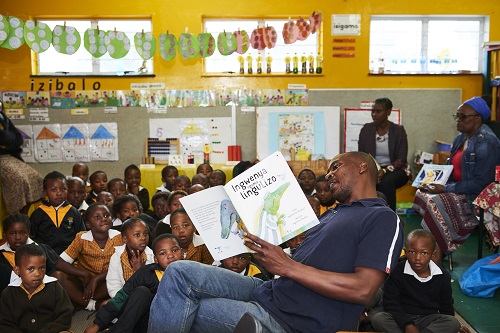 Why is it so important for young people to have access to exciting books in their own languages from an early age (and throughout their lives)?
Having the luxury of reading for pleasure is something we'd like everyone to have. Without books that resonate in one's own language, though, that becomes more difficult. It's through books and stories that so many of us are able to recognise ourselves. When books that speak to who you are in the language that you speak are missing, that's a failure we are all responsible for fixing.
What can we all do to support and develop all SA children's love for reading, no matter where we live in the country?
There are a number of organisations that work to get books into schools – Nal'ibali and Book Dash are great examples. See what's happening in your area and double check that the books are actually well matched to the learners. See if you can join a group that visits schools. Check with your local public library what their youth programme is like.
How can people get involved with your specific project?
They can get in touch with me at frankie@openbookfestival.co.za.
So often we make our literacy challenge the problem of individuals - people should donate more books, support more charities and so on. This often lets the big players off the hook. Ultimately, of course, today's children without books become the next generation of workers and entrepreneurs supporting our economy. What role do you think businesses and government should be playing to take responsibility at a macro level?
I would love to see government increasing budgets to allow schools additional salaries to employ librarians. I would also like to see them putting money into growing children's publishing across all languages in South Africa. On the corporate side, many companies already have projects of their own that target school learners in different ways. It would be fantastic to see more companies involved in supporting increased reading in some way, whether it's through putting a book directly into someone's hands, or whether it's through supporting the creation of kids content.
Reading and telling stories with your children is a powerful gift to them. It builds knowledge, language, imagination and school success! For more information about the Nal'ibali campaign, or to access children's stories in a range of South African languages, visit: www.nalibali.org.