Xhakaza is an avid educationalist and has committed her life to solving complex social problems. She believes education is one of the most powerful ways through which people can be uplifted from poverty. Having recently completed her MBA from the University of Pretoria's business school, Gordon Institute of Business Science, Xhakaza is excited to use business principles to solve social problems.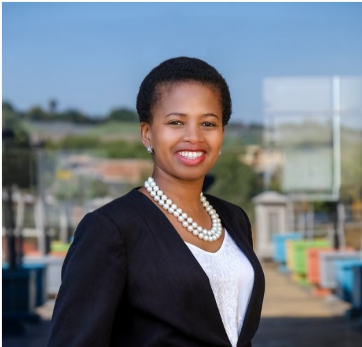 She joins Nal'ibali – South Africa's reading-for-enjoyment campaign – after her most recent appointment as Head of School at Arrow Academy, Centurion, under the ambit of Optimi Learning Solutions. She started the school in 2016 and leaves it with just over 300 children and 32 staff members.       
Says Xhakaza, "Nal'ibali is an organisation that pulled my heartstrings for many reasons. Coming from an education background, I understand all too well that reading is not just a building block towards the achievement of learning outcomes across subjects, but it is, in fact, the cornerstone of all children's future success in school. To be part of an organisation that is solely focused on encouraging reading for enjoyment is a huge honour as the work of Nal'ibali will have long-lasting impact in the lives of the children we touch."
Nal'ibali seeks to spark and embed a culture of reading across South Africa, so that reading, writing, and sharing stories – in all South African languages – is part of everyday life. Because, children who are surrounded by print and immersed in great and well-told stories in languages they understand, are more curious, confident, and motivated to learn. Nal'ibali wishes Xhakaza a successful tenure and looks forward to seeing how she moves the organisation forward.
For more information about the Nal'ibali campaign, or to access children's stories in a range of SA languages, www.nalibali.mobi or find them on Facebook and Twitter: @nalibaliSA.