In partnership with Old Mutual, Nal'ibali aims to use this year's Mandela Day's 67 minutes to reach a combined number of 670 learners from selected schools across Kwa-Zulu Natal, Eastern Cape, Free State, Northern Cape and Gauteng provinces. The schools selected for this year's Mandela Day initiative were chosen based on need, with many lacking essential learning materials like books, flashcards and reading charts. Monday the 18th of July until Friday the 28th of July, Nal'ibali, in partnership with volunteers from Old Mutual, will visit each school to hand out reading materials, meet with learners, read stories together and play interactive reading-related games.
Two lucky schools in Port St Jones will also receive school shoes provide by Kasi Angels Foundation which is a is a peer support, mentorship, big brother and networking programme that aim's to assist individuals, especially young boys and girls to cope with life adversities.
Children will receive Nal'ibali's reading materials, including the recently published anthology, read aloud collection storybooks, wristbands, and book treasure boxes. They will also participate in fun reading activities led by Nal'ibali's vibrant story sparkers and literacy mentors.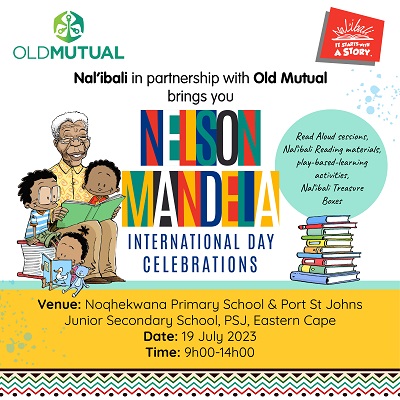 "Reading for pleasure holds the remarkable ability to transport children beyond the boundaries of their everyday lives," expressed Mpho Ramasodi, Head of Programmes  of Nal'ibali. "As we commemorate Nelson Mandela Day and embrace the call to reflect on Mandela's values and create positive change in our communities, our aim is to pay tribute to his spirit of service and ignite inspiration within our team to shape a better world. Through our active participation and dedicated efforts, we have an extraordinary opportunity to uplift and empower individuals and communities, truly embodying the essence of Mandela's teachings. This moment invites us to internalize the values imparted by Mandela and transform them into tangible actions. Together, let us contribute to the construction of a more equitable and compassionate world. Our aspiration extends beyond fostering literacy; we also aim to cultivate compassion and foster understanding."
There will be a raffle ticket that if a child finds in their book treasure boxes, they will  win an additional 67 copies of the anthology story collection to enhance their school's literacy centre.
In the spirit of community upliftment, Nal'ibali invites all South Africans to join their reading-for-enjoyment drive by signing up via the website and pledging to commit to read with children regularly or to start a reading club. Nal'ibali believes that by working together, South Africa can become a nation of passionate readers and build a more just, equitable and prosperous society.