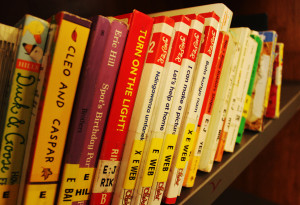 1. Help your children be better readers. Research published by the National Literacy Trust shows that young people (aged 8 to 16) who use the library are nearly twice as likely to be above-average readers than youngsters who don't.
2. Establish the reading habit. Weekly or fortnightly trips to the library help you and your children make a regular "date" with books and so you all get into the habit of reading – something that your children can enjoy for the rest of their lives!
3. Something for everyone. Libraries offer books for all ages and interests, all under one roof – from board books for babies, to picture books for young children, and novels and information books for older children and adults.
4. Reading for free. We all know that books are expensive and libraries offer a wider variety of reading material than we could ever own – and it is free!
5. Who's your favourite? Libraries are great places to find out who your favourite authors are – and where you can keep discovering new ones too!
6. Reading to write. Reading stories written by others can help inspire children's own story writing.
7. More than books. Many libraries also offer more than just books to educate and entertain you and your children – for example, CDs, DVDs and magazines. Some libraries also have newspapers for you to read while you are there, and computers you can use to access the Internet.
8. Enjoy free activities. Some libraries offer activities especially for children (like regular storytelling times) that let them have fun with books.
9. Ask for advice. Librarians are knowledgeable! Ask them about good and popular books for children, teenagers and yourself.
10. Quiet time. The library is a peaceful place for older children to do their homework.  It's quiet and there are plenty of books to help them do research for school projects and assignments.