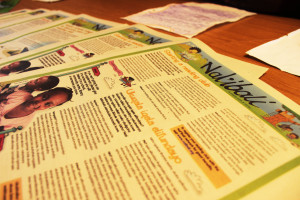 Reading clubs across South Africa are sharing with us the ways that they are using the bilingual Nal'ibali reading-for-enjoyment newspaper supplements. Clubs use them in different ways depending on how many books and other resources they have, as well as the age range of the children. Here are some ideas you might like to try:
What's inside? When you get a new supplement, read through it to get and think about how you can use it with the children at your club. Usually, the information on page 1, Story Stars, Dear Nal'ibali and Get story active! are for you and the volunteers at your club – to inspire and support you! Each supplement has two stories that can be shared with the children.
Make resources to use again: Take the mini-book pages (pages 3 – 6) out of the supplement and on your own or with the children make these into books for the club. Use the longer 'Story corner' stories (on page 8 ) to create story cards by pasting them onto pieces of card and covering them in plastic.
Store the stories: Find a something to store your supplement books and story cards in – like a decorated shoe-box or photocopy paper box – and then keep them in a special place at the club, so that the children know where to find them if they want to read or borrow them.
Take a story home: Create a lending library for reading club members so that they can borrow the books and story cards to read them at home with younger and older family members.
Read to a group: Choose one of the mini-books from the supplement to use in a read-aloud session. Let the children follow in their own copies as you read to them. Then try some of the 'Get story active' activity ideas, depending on how much time you have available. These activities extend and deepen the children's understanding of the stories.
Read alone and in pairs: Let the children choose which book or story card they would like to read with a volunteer or partner. Invite older children to also read on their own or to younger children.
Tell stories: Become familiar with the 'Story corner' stories and then use these stories for storytelling.
Spread the word: How about sharing information with the children's parents and other caregivers by sending home page 1 of the supplement for them to read?
Grow readers: Encourage the children to make their own little libraries at home by collecting the supplement stories. Older children might like to start small book clubs of their own by inviting other children to come to their homes to share the supplement stories.
Writing: Suggest that the children write book reviews of the supplement stories to share with others at the club.
Would you like to receive Nal'ibali supplements for your reading club, library, school or NGO? Email supplements@nalibali.org or click here to see if you are eligible to apply.