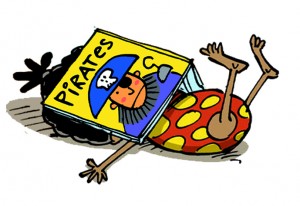 Do you think your baby would learn to speak if no-one ever spoke to him or her? Exactly! Babies learn to talk because older people talk to them. Learning to read and write are learned in similar ways, because like listening and speaking, they are also language. Reading to your baby offers her other opportunities to develop oral language and she also starts her reading adventure, learning what books are about and what we can do with them.
Even if your baby cannot talk, read and share a book together. Sharing books with babies:
Helps you bond with each other
Develops their language skills
Stimulates their cognitive development.
Reading tips with your baby:
A baby's eyesight is only fully developed by about four months, so it's good to choose books for very young babies that have simple pictures with strong contrasts (like black and white) or photographs of babies' faces. Repetition and routine makes young babies feel secure so you can read the same book over and over again in exactly the same place each day without boring your baby! You can also say different things than what is written on the page as long as you and your baby are enjoying yourselves with the book.
Until your baby can sit independently, it's easiest to put her on your lap with her back against you and to hold the book in front of her.
Don't forget to give your baby some attention as you are reading – even when you're half way through! A kiss and a cuddle during book-sharing time help to build a positive association with reading and books.
Even from before, and definitely from about six months, your baby may enjoy books that have songs and rhymes in them. Read the words to her but also talk about what is in the pictures and name some of the objects and colours. Don't forget to make lots of interesting sounds too – for example,  'mooing' when you look at a picture of a cow. Babies love to hear different sounds!
As soon as your baby sits, you may wish to introduce books that can be read in the bath. Board- and cloth books work best when you want to allow your baby to handle books on her own – for example, during nappy changes or when she is in her pram or safety seat in the car or during a taxi or bus trip. These books can be chewed, pulled, patted and bashed without breaking!
By about nine months, many babies enjoy books with flaps, pop-ups and buttons that you press that make sounds. You'll probably notice that your baby begins to engage more with what is going on in the book. For example, she might point to things on the page or try to turn a page. You can use these moments to encourage her to join in, at story time.
Between one and three years, babies' and toddlers' ability to understand and use language increases dramatically. Young children of these ages seem to enjoy all the books from their first year as well as ones that have stories. Click here to see some of the books that your child might enjoy.
Continue to set aside a special time each day to read with your child, choosing a wider variety of books. Choose some stories that have other children in them as well as ones that are about family and familiar everyday experiences. Rhyme and flap-books continue to be popular with toddlers. Use wordless books too. Talk about the pictures with your child and make up your own story.
As you read a book, draw your child's attention to how the characters, plot and illustrations work together by pointing to something and asking simple questions like 'Who is that?', 'Where is he?' and 'What is that?'. Make comments like 'I wonder why she did that?'. These invite your child to make meaning from the story you are reading together.