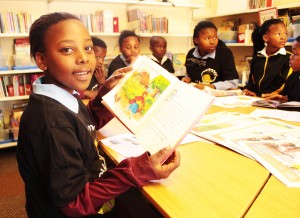 What do you use reading and writing for? Do you use it mostly at work, to study or perhaps to organise and run your home life? You might even be lucky enough to find some time to relax and read too.
Literacy is a right that should be enjoyed by all of us, but there are still 780 million adults in the world – and many of whom are in Africa – who haven't learnt to read or write. International Literacy Day is celebrated each year on 8 September and reminds us that literacy should not just be a privilege enjoyed by some people. At Nal'ibali, our commitment to literacy involves helping children and teenagers experience reading and writing in joyful and satisfying ways in their lives. On 8 September 2012, we will spend some time doing what we do most often on Saturdays: volunteering at reading clubs, reading to and with our children at home…and finding some time to read for enjoyment ourselves! What will you be doing? Here are some ideas of how you can make every day Literacy Day – and deepen your children's literacy learning.
Spend more time reading with your children than usual. Let them choose a number of their favourite stories and read them together!  Or, read chapters of a novel together, if your children are older.
Tell your children about the stories and books you loved when you were a child. Talk about their favourite books too and the write and tell us what they are – include a photo of yourselves if possible! Send your letters to: letters@nalibali.org
Think and talk with your children about the things you couldn't do if there was no reading or writing in your lives. Make a list and send it to us at letters@nalibali.org
Visit a bookshop or library together and spend time browsing through the books.
Get together with friends and their children and spend time reading to each other – adults to children, children to children, and adults to adults – and talking about books and stories.
Read a story to someone you don't usually read to! Try reading stories at an old-age home or in a children's home.
Go through your children's bookshelf at home and let them each choose one book to donate to a reading club you know of or a school library or an organisation that donates books to children. Download our public directory of clubs to find a reading club near you where you could drop off your book donation.
Register with the Nal'ibali network to show your support for using the power of stories to inspire children to want to read and write.