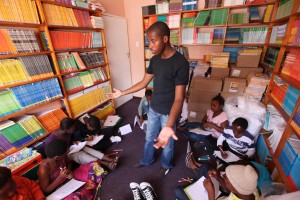 There is no single correct way of starting or running a reading club. You need to do what is easiest for you because that way you are more likely to be able to keep the club going and growing! Here are some ideas for starting up.
Who? Reading clubs are run best by people who love stories and books and want to help children grow to love reading. You don't have to be a teacher or librarian – you can learn about the world of children's stories and books at the reading club. Most reading clubs are run by volunteers, so you don't get paid money. Your payment is in the fun you have and the satisfaction that you are making a difference!
How many? Your reading club can be the size you want it to be. It could have 5 or it could have 100 children! Decide how many children you want in your club and how many volunteers you can find to help you organise activities for each session. Usually five children per adult or older child works well. Having too many children and not enough volunteers is not the best thing to do. If you have fewer children, you can give each of the them more attention. It's a good idea to start small and stay small if you like, or grow your club over time!
Where? A reading club can happen anywhere where there is a quiet space. Start a reading club somewhere safe – at school, after-care, a library, a community hall or clinic. Start one in someone's house or garage, at Sunday School or your Mosque or Temple – wherever is easiest for you!
When? A reading club can meet anytime that is convenient. It can last for half an hour, or two hours. It's up to you! Most reading clubs take place once a week. You could meet more, but it shouldn't be less!
What? Reading clubs need an open space to meet in. Something to drink and eat is always good, if possible. And cushions and carpets are more comfortable than desks and chairs. But reading can also happen under a tree, lying on the grass, or anywhere else that feels right. Mostly, you need good reading material to keep everyone interested – picture books; novels; fantasy and history books; books on adventures, travels, galaxies and dinosaurs; how-to books; sports and adventure stories; poetry, rhymes and songs; newspapers and magazines. And, of course, the best way to get to know what books to read with children of different age groups, is to read as much as possible for yourself.
Click here for more information on choosing books for your reading club.
Where to get books?
Look for books in all the home languages of the reading club members. Look for books in other languages that they may be learning too.
Find out which libraries have good selections of children's books and borrow from them.
If your reading club is at school, ask if the school has books you can use.
If you raise money to buy some books, visit the children's sections of bookshops and ask them to order the books for you. Some bookshops only have English and Afrikaans books in stock. Ask them to check if there are versions in other language/s you may want too.
Look out for charity book sales to buy cheap books.
Ask friends and family members and everyone you can think of for donations!
Contact literacy organisations in your area for help with book donations and workshops.
Whenever you are given books, make sure they are appropriate for the children you are reading with. As the selection of books you read for yourself grows, the more expert you will become about the world of storybooks.