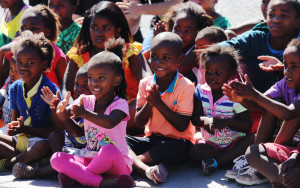 Reading clubs meet anywhere where there is a quiet space, at any time and for as long as is convenient for them. It doesn't really matter where, when or for how long your reading club meets – you need to do whatever suits you best. What does matter though is how the time you spend together at the club is used − this takes planning!
A plan is like a map – it gives you a whole picture that you can use to guide you where you want to go. Planning helps you to think about what activities you can offer at your club that will motivate children to read.  It also helps you to work out how to use the time you have available to grow a love of stories. If there are other adults that volunteer at your club, it is useful to plan your sessions together. If you have a shared plan for each session, things are likely to run much more smoothly.
Here are some questions and suggestions to guide you while you are planning.
* A matter of time. How long will each session be? How much time do you need for each activity? Make sure you allow enough time for the children to complete activities so that they do not feel rushed. Reading club times should feel relaxing, even though there are exciting things to do!
* Lots to do. What activities will you offer at every session? What other activities will you do once a month or on special occasions? It is good to get a balance between activities in which children can move around, like games, songs and drama, and ones in which they need to sit still, like reading books and listening to stories. Also remember to vary some of the activities in each session to keep your club's sessions fresh and interesting!
* What you need. What stories will you tell and/or read? Do you need any materials other than the stories for the activities?
* Who will do what. How many volunteers will there be? Who will run each activity?
When you spend time planning and organising how you can most usefully spend your time together, you are more likely to run a club that children will want to return to each week. They might even bring their friends!