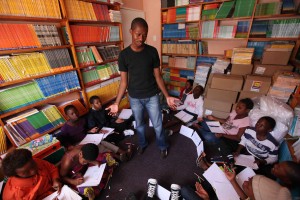 Getting involved in a reading club is really very simple! All you have to do is think about what you are able to offer – time, skills, transport, resources or ideas – and then get in touch with an existing club near you to find out how to become involved and what kind of support it needs. Here are 12 different ways to become a reading club friend.
1. Become a reading club facilitator at an existing club. You'll need to commit to attending club sessions each week where you'll share stories with the children and lead other activities. You'll also participate in the planning for each session with other facilitators.
2. Be a reading club volunteer. Maybe you don't want to lead activities or are not able to commit to coming each week, but still want to help out at a reading club. You could volunteer to attend once or twice a month where you would join in the activities and assist the children and facilitators. For example, you might read with children during a shared reading time or help a child to choose a story to read.
3. Donate books and other reading material. Reading clubs need lots of books in African languages and in English, as well as other reading material like newspapers and magazines. How about donating a book to a club once a month or on your children's birthdays? Or, buy/collect extra copies of the newspaper with the Nal'ibali supplement in it to donate to a club
4. Start a book drive. Find out what kind of books the club already has and wants, and which language/s would be most useful. Donating a few books at a time is fine – especially if the books come recommended
5. Help organise  books. Many clubs welcome help in listing and cataloging books, as well as in developing  workable systems for displaying and lending books.
6. Review and promote special stories. Volunteers may welcome suggestions about appropriate stories that cover specific themes, such as bullying, abuse, love, kindness or ones that may work particularly well for certain ages.
7. Help provide equipment. Many clubs offer drawing and writing activities and welcome equipment like paper, exercise books, pens, pencils, sharpeners, erasers, chalk, crayons, koki pens, scissors, glue and glitter. Collect recycled paper, go through your stationery drawer or buy some items and drop them off at a club. Dressing up clothes and other 'story-props' are wanted by some clubs that support children, especially but not only young children, to explore stories through play and drama.
8. Help with transport. If you own a car, consider helping lift volunteers and children to and/or from the reading club, where necessary or on outings. And make yourself available to assist the reading club in cases of emergency (transport to nearby hospital/clinic).
9. DIY. You can do small things to make a reading club's venue comfortable and inviting. Make cushions for the children to sit on and provide blankets, or help to put up book shelves and paint the walls.
10. Fill hungry tummies. Many reading clubs supply the children with a healthy snack because it's hard to concentrate if you are hungry! Consider making a donation of food like fruit or money to help sustain a club's snack-fund.
11. Donate money. Money donated to a club can be used to buy books and equipment as well as pay for outings. Every little helps!
12. Be a reading club ambassador. Talk about the reading club in your network (friends, community meetings, social media, at work, etc.) and collaborate with volunteers to arrange fund raising events.