Our FUNda Leaders are from far and wide across South Africa. Our next powerful FUNda Leader is from rural KwaZulu-Natal, in the Empangeni, Ntambanani area.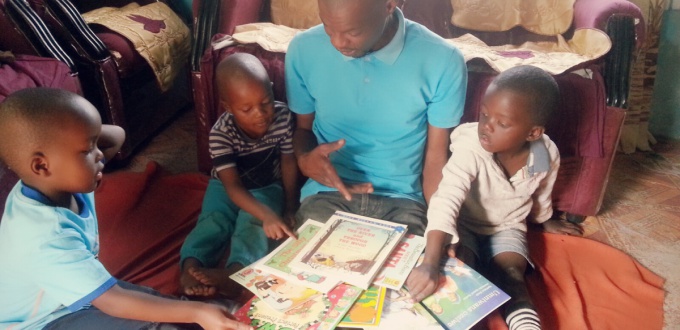 Now living with his family in KwaNdengezi Township, Pinetown. Melusi is a graduate with a three year diploma in Business management obtained at the Durban University of Technology.
For Melusi, family story time has always been a staple. He has created a ritual at home. Every afternoon or evening, around fire just after they finish supper as a family, Melusi's grandmother will randomly start with the stories: "It was like her daily routine! Some of these stories were exciting, funny, and even scary, but all with a valuable lessons."
For Melusi, reading and books are important because he feels that it "opens one's mind and make us understands the world better. I like the saying that...in books we have a friend!"
Books allowed Melusi to step into a world of languages and of different lives. This is why he founded the organisation 'Times knowledge learning foundation' - an NGO that promotes education and literacy development. Says Melusi: "We provide space for children to dream and leave out their dreams using Nalibali's reading-for-enjoyment model. We currently have a network of 73 reading Club leaders and 552 children benefitting around Durban KZN."
You can find them on Facebook at https://www.facebook.com/TKLF2015/
During his free time Melusi often reads aloud to people in local clinics who are waiting for family planning appointments – inspiring them to read to their children or future children from an early age. "
It is very much important that children understand that stories are written by people. That books reflect reality, even though it is weaved from imagination. They teach us about life experiences and can inspire us to write, or explore the world or an idea.
We asked Melusi about what motivates him to do this kind of work, and what drives him to be an active FUNda Leader: "What inspired me to become a FUNda Leader was my 10 year-old daughter. I would help her with her homework, after which we will read books, talk about the story, joke and laugh. Eventually she started to bring her friends too. I would end up having eight to ten kids in my room, all listening to and sharing stories. That's where I decided to formalise this idea and found Nalibali!"
Melusi continues to inspire the whole Nal'ibali team and his community everyday: "Be all about change, and don't be afraid to start initiatives that will help uplift our communities. How better to invest in the future of a country than to read to its children?"