Lilly Mahwibila plays an exceptional role in the team of adults taking care of the 150 children who attend the Phologo Drop-In Centre's after -school programme. It is therefore not surprising that  she's been selected for profiling by the national Nal'ibali reading-for-enjoyment campaign. Her story is being used to encourage and inspire its FUNda Leader network of voluntary literacy activists.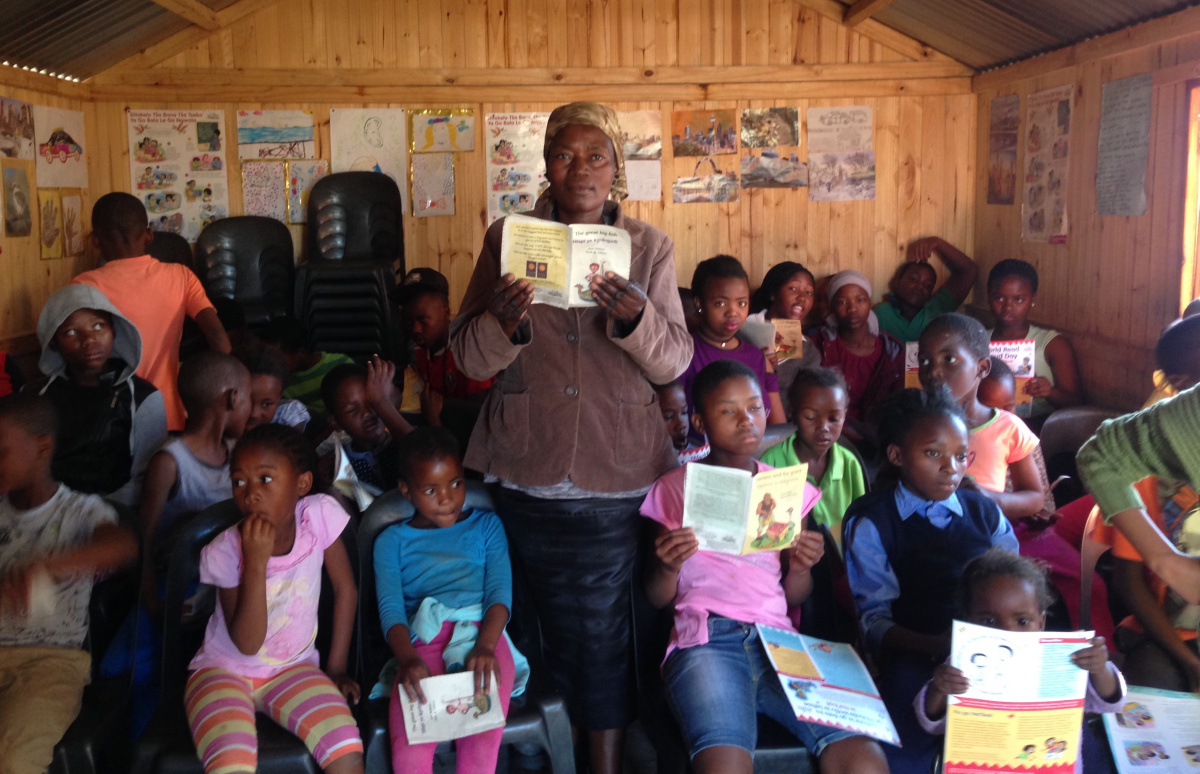 Seshego resident, Lilly Mahwibila, loves children and is always looking for ways to encourage them to read and stay in school.  Seven years ago, she noticed the great number of children who were dropping out of school and began  including them  in her reading and story-telling sessions. Today she runs two reading clubs for over 100 children, who meet every Tuesday and Thursday at the Phologo Drop-In Centre – a community centre in Seshego.
Unaware at that stage of the network of like-minded people working in similar ways across the country, Lilly persisted on her own, making use of any opportunity and the few resources available to her until last year, when she was introduced to the Nal'ibali Literacy Mentor in her province, Thabitha Kgopa. With Thabitha's support, Lilly has  established a structured programme for her reading club, using Nal'ibali's reading-for-enjoyment supplements which include  a variety of new bilingual children's stories in every edition.
Lilly has also signed-up to become part of Nal'ibali's volunteer FUNda Leader network, , which connects her with other adults volunteering their time in similar ways, who provide ideas, inspiration and mentorship, motivating Lilly to continue her invaluable work.
More than just a reading club, the safe and welcoming space Lilly has created, has become an anchor in the children's lives. This is especially true for the handful of orphans who attend the club on a regular basis. Using songs, games, rhymes and other playful ways to introduce them to language and literacy, the club is more like a home than a school. And, Lilly is feeding not only the children's minds through reading and storytelling, but she and her team also provide cooked meals for the children who attend the afterschool programme.
"It makes my heart sing when I see these children happy, fed and learning. We are building strong and positive relationships with the children and they're learning to engage with adults and each other in kind and respectful ways," says Lilly.
Combining her passion, commitment and resourcefulness when it comes to keeping her reading club going, Lilly fully embodies what it means to be a FUNda Leader: An everyday South African contributing to literacy development in their community.