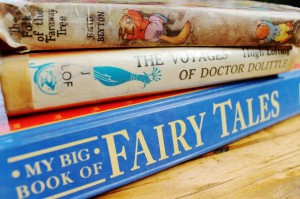 You can't discover the joy of reading without having good books to read! And, the more books that children have around them, the more likely they are to pick one to try.
But how do you know whether the books you choose for your children are "good" ones? Maya Angelou, an American author and poet, says that "any book that helps children to form a habit of reading, to make reading one of their deep and continuing needs, is good for them." And she's quite correct – a good book is simply one that your child enjoys! So, the question is, "How do you choose books that your child is most likely to enjoy?" Here are some tips to help you. (Remember that the age ranges given below are only a guide.)
* Babies and toddlers often like books with big, bold, colourful pictures and a few words in them. They also like simple stories with pictures and short sentences, and books with rhymes. Flap books and books with different textures, or that make different sounds when you press something, will lead to many fun book-sharing moments. Books made of cloth and board are often the most practical because babies do like to chew, pat, hit, drop, and even occasionally throw books!
* Children aged 2 to 5 years mostly enjoy picture books – stories that have pictures and accompanying text in them that can be read in one sitting. Stories can be about everyday life or about the imaginary worlds of kind or cruel queens, fairies, dragons and animals that talk and act like people. Children in this age group also often enjoy some simple information books with lots of clear and interesting photographs.
* Most children learn to read between the ages of 6 to 11 years. Many still enjoy picture books and especially enjoy trying to read books that were read to them when they were younger! As they begin to read chapter books, children often find particular authors whose books they enjoy − and then like to read all the books by this author! Recipe books, craft books, other "how to" books, joke books and fact books seem to be popular with this age group.
* Children who are regular readers have usually developed an ability to choose books for themselves by the time they are twelve and older. Suggest new authors to children of this age or suggest authors who write books on similar topics or in a similar style to the ones they have already read and enjoyed. Many teenagers enjoy books that focus on the challenges of growing up, while others prefer to escape into the world of fantasy!
Remember too that choosing books is a skill that will be useful to your children throughout their lives. Show them how to do this and encourage them to be adventurous and try books that interest them.
As you and your children explore books and stories, make sure you keep talking about which ones appeal to you and why – the more you do this, the better you'll get at choosing the books that will lead you deeper into the wonders and delights of reading.