Melanie Lippert, from Lansdown (Cape Town) is one of Nal'ibali's most active and prolific FUNda Leaders. This is her story, and her road to literacy activism:
It was after matric that Melanie realised her talent and passion for helping children. Once she had finished school, she started working for a city law firm. She since worked with different law firms in their admin and accounts department before leaving the corporate world in 2014.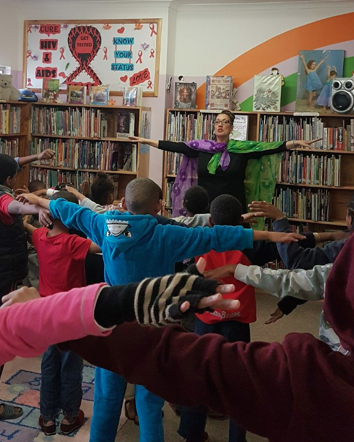 "I just knew there was something else I needed to do, yet I didn't quite know what" – Melanie Lippert.
She soon started volunteering at her daughter's school – the first moment that she realised just how fulfilling it was to interact with children and open up their worlds.
Melanie's love for stories started even before she could rememeber. Her first memory of being read to was at the age of 6. During the festive season, she remembers sitting in the yard of one of her neighbors, who used to tell her animated stories, full of character and colour.  Now, at 46 stories are part of her everyday life. This small but incredible moment shows just how effective stories are in creating a love of reading.
"Reading is my way of escaping the everyday and allowing my imagination to run riot..."
Melanie says that she takes every opportunity to read to children and even adults.
"I took on the challenge to read to as many children as I could at my daughters primary school during this year's World Read Aloud Day. From the actual day to the end of February, I read to over 800 learners. During the June holidays I lead a story time session too."
On top of that, Melanie has connected with the Ottery community library, and regularly reads there too. Melanie creates her own motivation to be a change-maker in her community:
"We pass on a little bit of history and of ourselves each time we share a story. Being read stories while growing up encourages children to, one day, hold that book and read it for themselves."
This understanding of the power and importance of books is what drives Melanie to be an active FUNda Leader: "I wanted to be a part of a group of enthusiastic and passionate people who loved sharing their love for stories, reading and creative activities within their immediate communities."
She felt that Nali'bali's 'Neo and the big wide world' was the story which jump started her storytelling journey.
"Reading to my daughter's classmates  made me realise that I have a special something, which I have not stopped sharing."