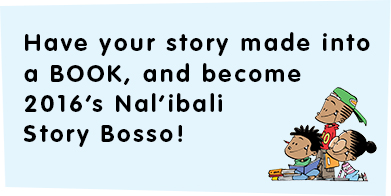 Competition is now closed.
Story Bosso is Nal'ibali's nationwide storytelling search to find South Africa's best storyteller! Aimed at reawakening a love of storytelling and reading among South Africans of all ages, this drive is about inspiring every individual to share the stories that matter to them; to showcase a range of local stories (in all South African languages), as well as identify undiscovered storytellers in communities across the country.
Everyone is a storyteller and everyone has a story to tell. The sheer diversity of the people in South Africa means that there are thousands of untapped stories out there, and we want to hear all of them! Running throughout September (Literacy and Heritage Month), people of all ages – children, parents, caregivers, teachers, librarians – are invited to enter the competition. To do this, they must send in a video or audio clip of themselves reading or telling a story. Entries can be submitted in any South African language, and can be original stories made up by the participants, retellings of stories heard before, narrative poetry or simply an extract from their favourite book!